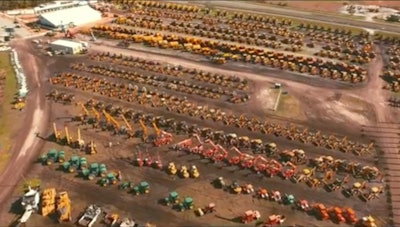 IronPlanet's 2017 Florida Cat Auction Services Unreserved Public Auction, set for Feb. 13-17, will feature its new LiveStream platform, as well as EventHero's event management and vendor CRM services to facilitate online and mobile access and transactions.
St. Augustine, Florida-based Caterpillar dealer Ring Power Corporation is hosting the auction that will feature "late-model, low-hour equipment" from OEMs including Caterpillar, Volvo, John Deere, Komatsu, JLG and Genie. IronPlanet says pre-registration for the event has increased by 500 percent compared to last year.
"With strong online pre-registration and advanced marketing to our 1.6M global buyers, we have already seen interest exceed last year's sale," says IronPlant Chairman and CEO Gregory J. Owens. "Our strong buyer growth has been driven by investment in new marketing channels – especially mobile. We know the use of mobile devices is changing the game. This year, we will be leveraging mobile in new ways, both online and on-site, to drive increased interest and engagement in the sale."
EventHero will provide "real-time on-site event management and mobile-enable many aspects of the sale – from registration and attendance reporting to vendor CRM." With the partnership, EventHero and IronPlanet will enable SMS and email options to "drive real time engagement during the auction week by promoting specific packages to on-site bidders as they come to the block."
IronPlanet's LiveStream will help buyers "who need to stay in the field, on the job or who prefer the convenience of buying online," the company reports.
"In addition to a wide-ranging lineup of high-quality equipment, IronPlanet is really setting a new technology standard to benefit buyers and sellers at this year's event," says Frank Streva, Used Equipment Manager, Ring Power Corporation. "Ring Power has always had great on-site participation at the Florida auctions, as hosts with IronPlanet, we are looking to again expand our reach on-site and to a growing global online buyer base."
Featured sellers for the auction include:
Altorfer Inc.
Blanchard Machinery
Carolina Cat
Carter Machinery
Cleveland Brothers
Fabick Cat
Finning
Foley Inc.
Genie
JLG Industries Inc.
Louisiana Cat
Milton Cat
Mustang Cat
NEFF Rental
NES Rentals
Ohio Cat
Patten Industries
Pipeline Machinery
Puckett Machinery
Ransome Cat
Riggs Cat
Ring Power Corporation
Sunbelt Rentals
Thompson Machinery
Walker Machinery
Warren Cat
Whayne Supply Company
Yancey Bros. Co.
Ziegler Cat
The IronPlanet Cat Auction Services Florida event is set for Feb. 13-17 in Kissimmee, Florida, beginning at 9 a.m. each day. IronPlanet will provide an equipment preview Feb. 6 at 8 a.m. Additional information on the auction is available at www.ironplanet.com/Florida.