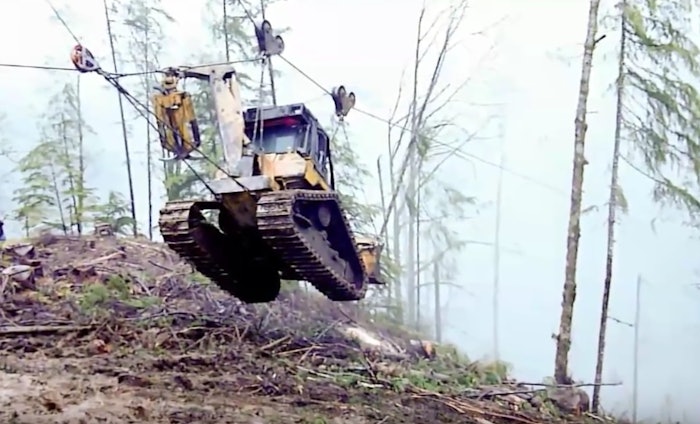 We've gone back through our thousands of posts to determine the top 10 construction equipment videos on the site for 2016.
These are ranked in order based on the number of clicks you, our dear readers (and watchers), provided. And this might actually be our favorite mix of videos since we started doing this annual roundup. So join us as we take a look back by scrolling through the videos below.
Read the full story, and watch the videos, here.
Caterpillar has introduced a new factory-built mulcher which combines a D3K2 dozer with an HM518 mulcher attachment.
Designed for small-to-medium diameter material across a range of applications in construction, road work and forestry, the D3K2 Mulcher can be equipped with either a conventional long (XL) undercarriage, or a low-ground-pressure (LGP) under carriage.
The HM518 has a 72-inch-wide drum that was designed to perfectly match the operating width of the D3K2, which is powered by an 80-horsepower Cat C4.4 ACERT engine. The mulcher can be removed in favor of a variable pitch/angle/tilt blade when needed.
Read the full story here.
If you suspected that contractors are snapping up as much used Tier 3 equipment as they can get their hands on, now there's proof.
A recent survey conducted by the Independent Equipment Dealers Association (IEDA) found that the Environmental Protection Agency's Tier 4 emissions mandates for diesel powered off-road equipment are driving up demand for equipment with less complex and less costly exhaust emissions technology.
IEDA members report seeing resale prices on the lower tiered equipment increase as much as 20 percent. And more than 50 percent of the survey respondents said that quality used equipment is getting harder to find.
Read the full story here.
When it comes to the new emissions-compliant engines, OEMs are preaching the need to maintain clean fluids. But when it comes to the purity of your diesel exhaust fluid (DEF), the cleanliness specs are off the charts.
All it takes to contaminate a 5,000-gallon tanker truck of DEF is one-tenth of a teaspoon of a metal like copper, zinc, chromium or nickel says Luke Van Wyk, owner and sales manager of Thunder Creek Equipment. If you don't know what a teaspoon looks like, those tiny salt packets you get in a fast food restaurant hold about a teaspoon. Now imagine one tenth of one of those stirred into a tanker truck full of DEF. Other contaminants such as iron, aluminum, phosphorous, magnesium, calcium, sodium and potassium can also ruin a tanker-full of DEF in amounts of two teaspoons or less.
Read the full story here.
Though the 2017 Super Duty has won just about every award and piece of critical acclaim a pickup can win this year, the last half of 2016 has proven a bit rocky for Ford with the automaker issuing numerous costly recalls amid the already-pricey launch of the next-generation heavy duty pickup.
Compounding these troubles is news that venerable reviews publication Consumer Reports has dropped its recommendation of the F-150 due to "declining reliability."
Ford's latest recall affects the 2017 Super Duty as 8,000 of these pickups are being called in to be inspected for a missing fuel tank strap reinforcement. Dealers will inspect for the presence of a reinforcement bracket on the No. 3 crossmember at the front fuel tank strap attachment location. If no reinforcement bracket is found, the dealer will install one at no cost to the customer.
Read the full story here.