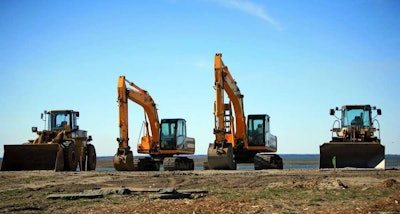 The team at Equipment World is proud to announce the launch of something we've been hard at work on for the better part of the last 12 months. Heavy equipment dealers have long been a core part of our online audience and we've wanted to build a site focused on coverage around their specific interests and concerns for some time.
With today's launch of our new brand and website Big Iron Dealer (BID), we'll be delivering daily headlines and a weekly newsletter full of data-driven equipment buying and selling trends. (You can subscribe to the newsletter using the box at the top right corner of this page.)
BID is a site for dealers who sell, rent, lease and service all types of new and used construction equipment, from compact machines to the largest earthmovers.
"We're launching Big Iron Dealer to address a need in construction for information that helps dealers stay on top of the latest issues and trends affecting them and their markets," says Marcia Gruver Doyle, editorial director of Randall-Reilly's construction division and chief editor of Equipment World. "Dealers play a critical role in the construction equipment life cycle and Big Iron Dealer aims to bring them unique insights to help them better serve their customers."
With access to new and used equipment financing data through EDA and to used equipment sales through TopBid, Big Iron Dealer will offer readers information they can't find anywhere else, says James Vogel, vice president of professional services at Randall-Reilly. "Through EDA, we have detailed information on more than 1 million active construction equipment buyers, while TopBid gives us up-to-date auction data, all of which is of interest to Big Iron Dealer readers," Vogel says.
In addition to sales trend data, Big Iron Dealer will also regularly feature dealer profiles and business news, association updates and manufacturer news. 
We hope you'll join us at BigIronDealer.com, subscribe to the weekly newsletter (using that box in the upper right hand corner) and connect with us on social media:
For information about editorial coverage, contact Chris Hill, ChrisHill@randallreilly.com or 205-432-8013. For information about advertising, contact Michael Newman, mnewman@randallreilly.com or 205-248-1241.