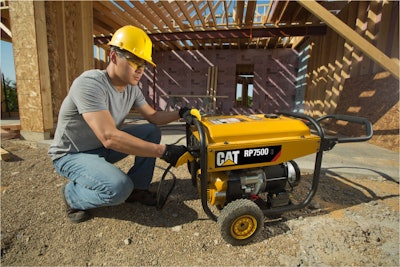 With its announcement that Cat is entering the portable gen set market, one part of the announcement may have escaped notice: the company is going beyond its dealer network to distribute these products. And, although Cat is remaining mum on exactly what's next for their new Home & Outdoor Power division, it's clear that there is a product introduction strategy in the works that goes beyond gen sets.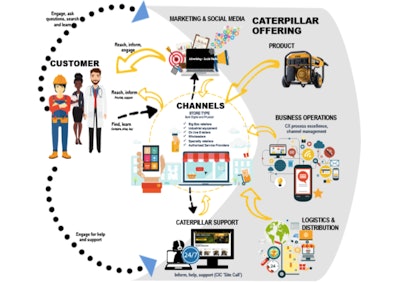 "We're creating a complete omni channel to take care of these customers," says Tony McAllister, omni channel manager for Caterpillar's new division. "That channel includes our dealers, and also uses e-retailers, big box stores, specialty retailers and authorized sales and service agents. I think we're ideally placed to do this."
To approach the power gen market, Cat created three customer personas, all with different points of purchase:
Jill, who wants a reliable, out of the box product, and plans to employ it primarily for recreational use. Jill will likely purchase the product online.
Rob, who wants the gen set for emergency use, ready to use out of the box, and who will usually buy it at a nearby retailer.
Dave is the professional user, requiring a reliable supply of power that's in constant use. Dave will probably buy his gen set at his Cat dealer.
"We see this as a good fit with our traditional markets, where many times a generator is the first thing on the jobsite," says Nick Kelsch, omni channel marketing manager. "What's new is the homeowner piece, including the emergency response and recreational markets."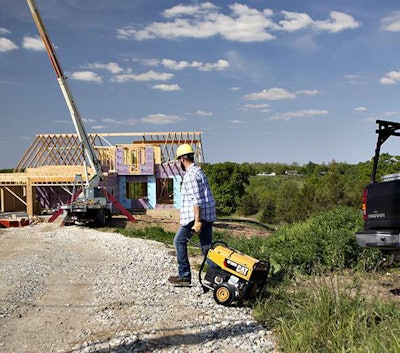 Kelsch says the project started in Cat's electric power division with a black sheet of paper, with the group soliciting feedback from more than 800 people during a two-year research project. Earlier models were scrapped after the pull-rope start proved too difficult and the weight balance was off. "We wanted users to be able to pull this through rubble, and we put the same electric on/off switch on these as on our larger machines," he says. Chongqing Rato Power in China, working from Cat designs, manufactures the product.
"We want to give the customer a seamless experience," McAllister says, and Cat is counting on that to be a product differentiator while its price point remains competitive. For example, if customers register their gen set in Cat's online portal, they'll get an extra third year of warranty, and have an always-ready online receipt if needed down the line. A QR code on the equipment makes start-up instructions and other information instantly available.
Beyond the dealer
Cat is now lining up authorized sales and service partners and giving them access to technical experts, parts inventory and a fully mobile portal where these service centers can be alerted, respond to and update service requests. These partners can choose to offer both sales and service, or just one of the two.
One of the first authorized centers is Wieland's Lawn Mower Hospital, a landscaping supply store in Washington, Illinois. Gary Wieland, owner of Wieland's, has put the Cat gen sets front and center in his three storefronts in the Peoria. "Home and outdoor power is what we do, so having this brand was just a natural draw," he says. Although his firm has offered competitive gen sets in the past, Cat is the only brand he now offers.
Another early signee is Blain's Farm and Fleet, a regional retailer with 38 locations, which offers the product both in-store at 30 of their locations and also online. Service is available at all 38 locations.
Cat is setting up its Home & Outdoor Power authorized sales and service centers in both North America and Europe, where it plans to launch this initiative in the first quarter of next year.
Dealers integral
"The Cat dealers are very integral to our Home & Outdoor Power initiative," says Melinda Doty, sales manager, omni channel development. "Cat dealers have customers coming into their stores on a daily basis, and those same people also have personal and professional power needs. Now our dealers will have the product to service that need."
Early adapters include Little Rock, Arkansas-based Riggs Cat, which started merchandizing the gen sets in their storefront shortly after the product's September launch. Yancy Bros. in Atlanta, located close to Cat's Georgia distribution center, responded to the Hurricane Matthew aftermath by sending a truck to transport gen sets to areas of need.