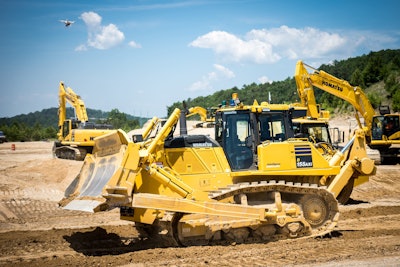 Komatsu America is purchasing four branches of Arizona-based dealer Road Machinery LLC—three in New Mexico and one in Texas—in order to convert them to company-owned sites to be re-branded as Komatsu Southwest locations.
Established in 1955, Road Machinery operates 13 other locations in the southwest and features Komatsu mining, construction and forestry machines. The company also carries Wirtgen Group equipment, including Hamm, Vogele, Wirtgen and Kleeman brands.
Machine types listed on the company's website include articulated and rigid trucks, dozers, excavators, motor graders, wheel loaders, crushers, rollers and compactors.
"We will more than double the investment in equipment, tooling and training at these locations," says Komatsu America CEO Rod Schrader. "We see this as an opportunity to improve the linkage of our customers to our factory experts with added customer support and responsiveness."
The New Mexico sites are located in Albuquerque, Carlsbad and Farmington. The Texas operation is in El Paso.
The company says the purchases will support its "long-term strategic plans to grow and strengthen the distribution channel." The purchase closed on October 5 and Komatsu did not disclose additional details about the transaction.