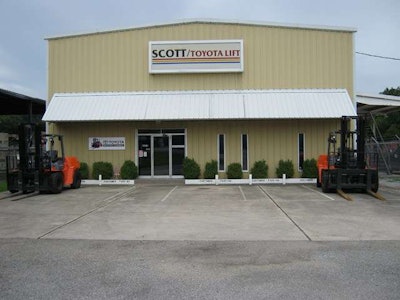 Scott Equipment and Toyota Industrial Equipment recently teamed up to provide financial assistance to the Scott's Baton Rouge customers and employees impacted by the floods in southern Louisiana in August.
Scott Equipment's Baton Rouge location, a Toyota IE site, was flooded with nine feet of water, and many of employees' homes were damaged.
The company's other locations in southern Louisiana assisted the location with support to customers who needed material handling machines and heavy construction equipment for their regular jobs as well as flood clean up. Scott Equipment says the store will reopen in early November.
Toyota IE's dealers and associates raised more than $30,000 for the Scott Foundation to help employees affected by the flood. Toyota IE also worked with Scott Equipment customers in providing special financing rates, deferred monthly payments and factory rebates to help replace machines.
Both companies also donated two forklifts for use with flood recovery work, with one used in Livingston Parish and the other one used at the Baton Rouge Food Bank.
"The flooding has affected so many things," says Chris Landry, manager of Scott Equipment Baton Rouge. "Our own homes and personal lives, our business and our customers, as well as their ability to get back to work and rebuild. We are very grateful for Toyota's partnership and support."
"Toyota is in the business of keeping things moving, so it's important that we do our part to put our neighbors in Louisiana back to work and to help restore some normalcy to their lives," says Toyota Material Handling U.S.A. President Jeff Rufener. "This is a community in trouble, we want to step up and answer the call."