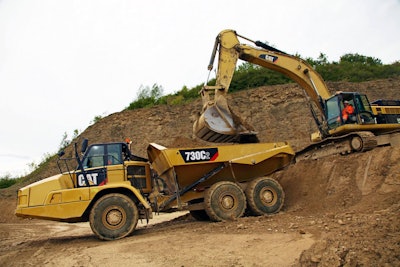 Caterpillar has announced plans to expand its footprint and workforce development program in countries throughout Africa through a $1 billion investment over the next five years.
In addition to improving the company's parts distribution capacity across the continent and building new Certified Rebuild Centers, the investment will add new dealer branch locations and expand the company's Technicians for Africa online skills development program.
Technicians for Africa is a free program that teaches important technical skills needed to pursue a career as an equipment technician. Caterpillar plans to expand the program from three to 15 countries across the continent.
Caterpillar employs 15,000 company and dealer employees in the continent and, through the Caterpillar Foundation, has invested $50 million in projects aimed at lifting people out of poverty since 2010. These programs have used training, policy work, entrepreneurship programs and more to make an impact. The company's foundation has committed another $15 million to this work by 2020.
"For 90 years, Caterpillar machines have helped build critical infrastructure projects throughout Africa. Today, we bring not only construction machinery to the continent, but also traditional and renewable power generation solutions, diesel-electric locomotives, marine engines and mining equipment," said Caterpillar chairman and CEO Doug Oberhelman. "…We are proudly confirming our plan to make a long-term investment to help build, develop and power communities, and serve as an education and training partner to broaden and strengthen local workforce talent and expertise."
Oberhelman has also taken part in UN Week this week in New York City where he participated in "a skills development discussion panel during the historic African Business Forum with President Kenyatta of Kenya, President Mahama of Ghana and IBM Chairman and CEO Ginni Rometty," according to a Caterpillar press release.
The company also announced that Resource Industries group president Denise Johnson was named to the U.S. President's Advisory Council on Doing Business in Africa (PACDBIA).
"It's an honor to be named to this Council dedicated to improving trade and business opportunities between African countries and the United States," said Johnson. "I'm looking forward to working alongside my industry peers to share Caterpillar's decades of experience in Africa and provide counsel to the President as we seek to bolster those relationships."