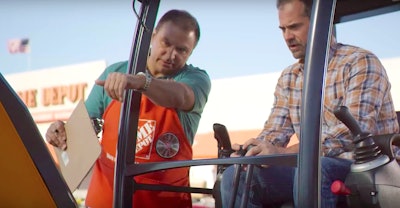 Compact Power, an equipment rental company which operates out of more than 1,100 Home Depot locations across the U.S., has announced the addition of the following four new machines to its available fleet:
Genie GR-20 Runabout: A smaller-platform, zero-turn-radius aerial lift that can easily navigate throughout homes or worksites to accommodate a variety of projects including construction, installation, maintenance and stock-picking. The lift can extend to a working height of 25 feet.
Gehl 3640E skid steer
Toro TX 1000: Toro's most powerful Dingo loader with a rated operating capacity (ROC) of 1,000 pounds, offering vertical lift and an 81-inch hinge pin height. Toro says this small loader, which is easier to dismount and trailer, can replace a full size skid steer or CTL in many applications.
AUSA TH2513: A small telehandler designed to lift 2,500 pounds up to 13 feet.
Compact Power's partnership with Home Depot began in 2008 with three pilot locations in the Charlotte, North Carolina, area. Between 2014 and 2015 the business grew by 40 percent. In 2014 the company began offering delivery on select rental machines.
The company offers a wide range of compact equipment for construction and landscape professionals and home improvement DIYers including trenchers, chippers, mini excavators, skid steers, aerial lifts and tractor loader backhoes.