Skyjack machines tee up for charity in Miami
Skyjack scissor lifts and booms were on hand at the BEA and Action Rentals' Second Annual Golf Tournament, held on March 16 in Miami.
The daylong event, held at Miami International Links in the Melreese Country Club, included golfing and a silent auction. This was Skyjack's second year as a platinum sponsor for the event, which raised more than $21,000 for Centro Mater, a childcare service in south Florida at specializes in taking care of children of low income and underprivileged families. In addition to sponsoring the event, Skyjack, a Linamar Corporation, donated an additional $3,000 through its 30 for 30 Partners campaign.
Hyundai taps Rogers as marketing manager
Hyundai Construction Equipment Americas has named Corey Rogers as the company's marketing manager. Rogers, who had worked with Hyundai previously as product development and sales training manager, rejoins the company from a position as a regional manager in Latin America for a crane manufacturer.
In his new role, Rogers will lead all brand and product marketing communications for Hyundai's construction equipment and forklift product lines. He is based at the company's North American headquarters in Norcross.Hu
Fecon adds Road Builders to dealer network
Fecon has named Road Builders as the newest addition to the company's dealer network. Serving Kansas, Nebraska and Western Missouri, Road Builders will offer Fecon's line of Bull Hog mulchers, FTX Track Carriers ranging up to 600 horsepower and other forestry attachments.
Road Builders will also serve as a local service facility for Fecon products.
JCB honored for environmental awareness
The Savannah, Georgia, Chamber of Commerce has awarded JCB North America the 2015 Environmental Awareness Award.
Recognizing businesses that excel in areas that include environmental awareness, community involvement, safety and international business, the award is given to a company that demonstrates outstanding performance in efforts to continuously improve environmental quality.
Through a partnership with environmental service provider Nexeo Solutions, JCB has reduced its waste stream by 92 percent. The company's most recent environmental improvement project replaced a 240-ton air-cooled chiller for the office's HVAC with a new system that uses JCB's man-made lake as a natural cooling source, reducing peak consumption by more than 60 percent.

Bayview Kenworth opens New Brunswick location
Bayview Kenworth has opened a 13,000-square-foot Kenworth parts and service dealership in Bathurst, New Brunswick.
Featuring six truck service bays and a 1,500-square-foot parts warehouse, the location sits on six acres at 2015 Industrial Drive, near New Brunswick Routes 8 and 11.
The dealership, which previously served as an existing independent parts and service dealership, joins four more Bayview Kenworth locations – Fredericton, Moncton and Saint John, and one in New Glasgow, Nova Scotia.
Douglas Dynamics named top 100 workplace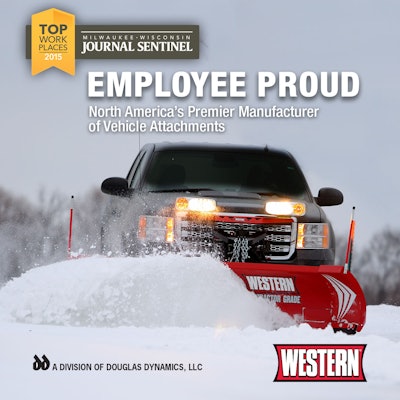 Douglas Dynamics, a manufacturer of vehicle attachments and equipment, has been named one of the top 100 workplaces in Southeastern Wisconsin by the Milwaukee Journal Sentinel. Named for the sixth consecutive year, Douglas Dynamics is one of only 24 companies to be ranked on the list every year since it was first published.
Ranked seventh among mid-size companies, Douglas Dynamics was recognized for attributes that include effectiveness of management, the direction of the company, openness to new ideas, salary and benefits and employee engagement.
Douglas Dynamics also received the "Most Clued in Senior Management" Award, based on standout scores on specific survey questions.
Groff Tractor acquires Trico Equipment
Groff Tractor and Equipment has acquired Trico Equipment Services, a Case Construction dealer with locations in Vineland, Totowa and Freehold, New Jersey.
Based in Mechanicsburg, Pennsylvania, Groff Tractor will have 11 locations in four states following the acquisition, which includes dealerships in Pennsylvania, Maryland and Ohio.
The newly acquired New Jersey locations will feature the full Case CE equipment line, as well as service departments with diagnostic and repair equipment, on-site service capabilities and large parts inventories. Additional equipment available at the locations includes Sakai, Peterson, Multiquip, Towmaster and more.
IMT adds to team
Garner, Iowa-based Iowa Mold Tooling, a manufacturer of service vehicles, truck mounted cranes, hydraulic loaders and air compressors, has added three new members to their team.
Shay Linahon, inside sales representative for fleet accounts, will assist with the promotion and administration of national and fleet accounts. Linahon joins IMT from Graham Wood Doors and holds degrees from Northwest Missouri State University and North Iowa Area Community College.
Schad West, lean specialist, will lead initiatives and training of continuous improvement events for operations, while working to integrate the Oshkosh Operating System. West has held positions with Crown Group and Hagie Manufacturing and is pursuing a business management degree from Texas A&M University-Corpus Christi.
Bridget Wolf, senior customer service associate, will join the IMT customer service and aftermarket support teams. Wolf previously served as a customer service representative for Graham Wood Doors, and holds an accounting diploma from North Iowa Area Community College.