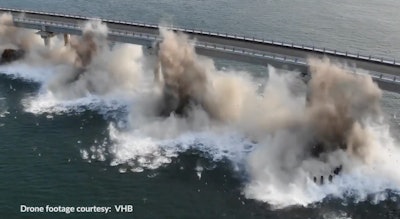 "It's rare, but sometimes the best way to demolish old bridge piers is to use explosives," says the Maine Department of Transportation.
To that end, the agency took out the piers of the old bridge between Beals Island and Jonesport. The 1,000-foot-long bridge was built in 1958 and had deteriorated to the point it needed replacement. The new Beals Island Bridge, a $23 million project, opened August 16.
Before exploding the piers, the bridge's deck was saw-cut and broken up by hydraulic hammer, according to MaineDOT spokesman Paul Merrill. The material was dropped to a barge below and then loaded onto trucks to be hauled off. The remaining steel beams were cut and removed.
For the six separate explosions to destroy the piers, the agency used a nitroglycerine-based dynamite.
The agency's last explosive demolition of a bridge of this scale was the Mildred Long Bridge between Kittery and Portsmouth in 2016.
Here's MaineDOT's video of the dramatic explosions:
It's rare, but sometimes the best way to demolish old bridge piers is to use explosives. Check out this video from our demolition of the old Beals Island Bridge, which connects the towns of Beals and Jonesport. pic.twitter.com/BtiZiYHWXt

— MaineDOT (@MaineDOT1) November 6, 2020