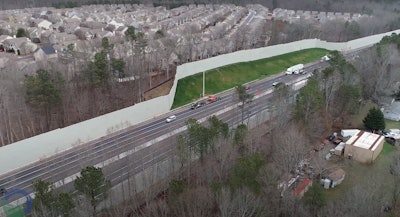 The Georgia Department of Transportation recently celebrated the opening of the first phase of widening of Interstate 85 north of Atlanta, a project that was completed 41 days ahead of schedule.
Instead of having an in-person ceremony, the GDOT created a "virtual ribbon-cutting" to mark the occasion:
The project adds a lane in each direction, as well as a paved shoulder and concrete median barrier to replace the grassy median. The first phase extends from I-985 to S.R. 53 through Gwinnett, Barrow and Jackson counties, replacing three overpass bridges that were more than 50 years old and bridges over Mulberry River.
Construction began on the first phase in 2018, as the state's first Major Mobility Investment Program. The MMIP focuses on projects that will add traffic capacity, improve freight movements, enhance safety and decrease travel times, according to GDOT.
C.W. Matthews was the contractor on the first phase and has also won the $94.6 million contract for the second phase of widening I-85, with construction scheduled to begin next year. The project will pick up at S.R. 53 and extend to north of U.S. 129 through Jackson County.
After completion, scheduled for 2023, travel times are expected to drop by 69 percent, according to GDOT.
GDOT says it will complete the second phase four years ahead of schedule because it does not have to acquire rights of way. The project includes replacing an overpass bridge and six mainline bridges.