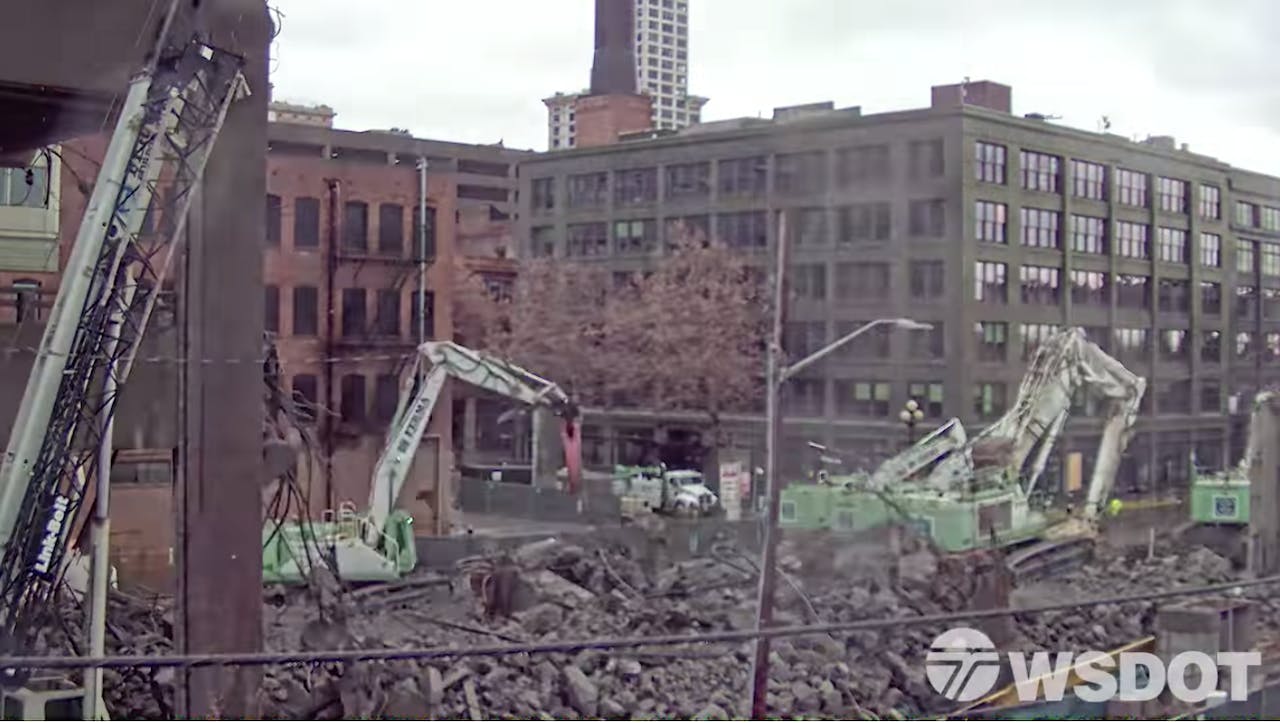 The Washington State Department of Transportation (WSDOT) informed waterfront business and tourism leaders that demolition of the double-decker portion of the Alaskan Way Viaduct between Pike Street and Vesler Way is three weeks behind schedule and won't be completed until June 22, The Seattle Times reports.
The demolition subcontractor, FERMA, says it's taking crews 1.3 to 1.7 days to remove each deck section rather than the 0.6 days forecast in February when demolition began. Demolition of the entire viaduct is expected to be complete by August.
"They are looking for efficiencies to speed up the work," WSDOT spokeswoman Laura Newborn told the news agency, acknowledging that the contractors got a slow start. "The prospective delay is "not three weeks, but a couple weeks."
Newborn added that crews have now opened up enough space to use big demolition machines, so teams can work faster. Several spans have already been removed near Pike Place Market and Battery Street, and a temporary observation catwalk has been installed on a leftover viaduct column, where whole girders that supported the viaduct over railroad tracks will be cut apart and extracted.
Demolition work performed by Kiewit Infrastructure West, the demolition contractor, will cost $40 million, while that added to the cost of the demolition and decommissioning of the Battery Street Tunnel and rebuilding lower Aurora Ave. North will total $94 million. WSDOT says that even if contractors are a couple weeks late, nearly all of the central viaduct will be gone by June 1.
WSDOT's YouTube video below shows one of the spans being demolished.