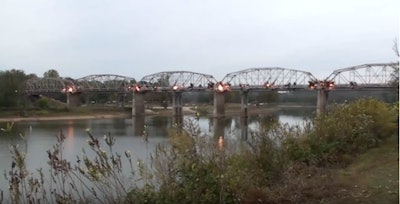 At 10:08 a.m. on October 16, the five-span, steel and concrete bridge on Highway 76 and Highway 160 over Bull Shoals Lake near Forsyth, Missouri, was demolished in one big boom, Ky3 TV reports. The demolition took only seconds to take down the historic bridge that was nearly 70 years old.
"Once it's set off, it creates a knife blade edge of molten copper that slices through critical points of the structure… it causes the structure to drop vertically down," Missouri Department of Transportation (MoDOT) Engineer Johnny Teegardin told the news agency. He said the explosion was set up so it wouldn't disturb the new bridge located right beside the old one, which is already open. "It's directional, and obviously, the direction they chose to deploy the charges were to the east, away from the existing structure," he added.
Now comes the clean-up. Teegardin told the news agency that they would pick up the bridge pieces out of the lake, put them on a barge, bring them to shore, cut them up, and haul them off for reuse. "Every component of this bridge will be recycled at some point," he said.
The YouTube video below shows the demolition in slow motion.