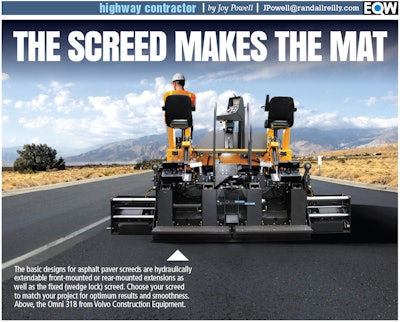 Though it's the paver that usually gets the glory, it's the low-profile screed that really makes the mat. For contractors, how you roll comes down in a big way to choosing a front-mount, rear-mount or the more uncommon fixed-mount screed
Fixed-width screeds, popular until the turn of the century, now represent only 2 or 3 percent of the market and are predominantly used for paving long sections.
Front-mount screeds manage material easily through the pass, with the mix typically in front. Rear-mount screeds are favored for wide-width paving.
The screed a contractor chooses boils down to preference and crew training, says Kyle Neisen, product manager for Roadtec pavers and material transfer vehicles.
Roadtec, a sister Astec company, uses Carlson screeds on its pavers.
"In the past 10 or 15 years, the front-mount screeds have really started to gain popularity – and in the past few years, almost every manufacturer has developed their own version of the front-mount screed," Neisen says.
Acquired by Astec Industries in 2000, Carlson manufactures highway class asphalt screeds in North America and Australia, with seven platforms in front-mount, rear-mount and fixed-width orientations.
"We've recently entered the rear-mount market, which is a pretty substantial portion of the industry," says Tom Travers, Carlson sales manager.
In the northeastern United States, he says, contractors lean toward a front-mount extension screed design, where there are parts of the Midwest and the southwest that really had never moved to the front-mount screed extension and are happy with the rear mount.
"At Carlson, what we're trying to do is offer is a valid, superior product for both of those groups," Travers says.
Crews typically do best with the type of screed they're used to running, he and Neisen say. Front-mount screeds do, for their part, have the reputation of being more forgiving and quicker to react to width changes.
Take, for example, paving a 12-foot main line adjacent to driveways. At each driveway, you need to extend the width by a few feet. "Both the front mount and the rear mount are going to extend out and pave that driveway easily," Neisen says. "But when you try to bring the screed back into your standard 12-foot width, that's when a rear mount takes a little more skill to operate."
Bring the rear-mount screed in too fast, and you're in danger of pinching material between two pieces of metal. "The metal is going to give before the asphalt does," Neisen says. "So, you can have potential for bent end gates if an operator isn't paying enough attention or hasn't been properly trained, or just makes a mistake."
The rear mount provides uniform, even compaction from the extension area to the main screed, and is a little slower to react. Sometimes, that's a good thing, Neisen says.
"When you're going for smoothness, reacting too fast can create issues," he continues. "But when you're trying to pave in tight areas or complex situations, quicker reactions can be good. So, you really see preference both ways. From a Roadtec standpoint, we offer all three screed options – rear mount, front mount and fixed width."
Volvo Construction Equipment also has screeds for all preferences, says Bill Laing, Volvo CE product manager.
"If the contractor wants a front-mounted screed, we have that in two variants: the Ultimat 200 and the Omni 318," Laing says. "We also have a fixed-width screed that's called the Wedge-Lock."
The key difference between the Ultimat 200 and the Omni 318 is that the latter is heavier. "It's more for highway-type applications. You get good compaction and good density off the back of the screed," Laing says, noting that the main screed plate is the same width as the extension screed plate.
"You don't have the extended versatility that you have with the Ultimat 200," Laing adds, "but you still have the front-mounted technology where you don't have as much material out in front of the screed and in the auger box area. That's good to have, especially if you want to pull in or push out."
The fixed-width screeds can be used in a variety of applications but are especially well suited for joint-free pavement construction.
Rear-extension screeds for a variety of work
Jim Holland, vice president of sales for Vögele, North America, a Wirtgen brand, says there's one state that still uses fixed-mount screeds while about 98 percent of the market uses hydraulically extendable screeds.
The majority of Vögele machines are equipped with either a front-mount VF 500 or 600 or a rear-mount VR 600, Holland says. Vögele currently sells more VFs, which come in 8- and 10-foot widths. Currently, the VR is available only in a 10-foot width in North America, though that will soon change.
From his perspective, there's been a rising number of rear-extension screeds used these days.
"It used to be customers would just use them on mainline work," Holland says, "but rear-extension screeds can be used in commercial type work, too. It all depends on what the customers feel comfortable using."
With the VR rear-extension screed, the main screed plate and the hydraulic extension screed plates are the same depth from front to rear. The material, once it comes off the edge of the main screed, rolls back on the extension and then is on the extension plate the same length of time as it would be on the main, Holland explains.
"We've had some customers using a VR screed on airport jobs where they first considered using a fixed-width screed. They were able to use it for the airport jobs and then put it on normal road jobs as well," he says.
"The rear extension has a good flow of material and it's rigid, so it's great for mainline work and can be stretched with the bolt-on extensions out to 28 feet," says Holland, adding that he believes it's the best screed Vögele makes.
With front-extension screeds, the hydraulic extension in front is half the depth of the main screed, he says. End gates are shorter, enabling you to react more quickly to obstructions, manholes or a water inlet, for example. Those screed frames are built to the same quality on the rear, he says, with similar alignment of the guide tubes and the cylinders.
"We've tried to design a screed that gives flexibility for commercial work, but we still maintain the rigidity of the screed, so they can use it for mainline work as well," Holland explains of the front-extension screed.
It's crucial to maintain the rigidity in order to keep the alignment of the main and the hydraulic extensions consistent, Holland notes, "so you get the best quality mat and best ride possible."
Getting screeds heated, crews paving
Travers says Carlson first brought electric heat to the U.S. market many years ago with a rudimentary design, "but our intention always was to get the people away from the diesel-fired flame heat that emits really toxic fumes and causes reduced life cycle on the wear parts."
That design circulated hydraulic oil through the plates, he says, and you would only be able to achieve the temperature that the tractor was emitting through its power train system to a full electric element. "Today, we have gone to a race-track style more developed element," Travers says.
"One of the biggest things that we hear about is the amount of time it takes to heat up the screed in the morning for start of the shift," says Neisen. "When you turn a machine on, it's been sitting cold for a number of hours, and the metal in the screed is at ground temperature or air temperature, depending on when or how it was left."
Roadtec recently rolled out two-speed heat on all of its paver and screed combinations.
Once the paver is turned on, all of its electrical power goes into the screed. None of the auxiliary lights or other electrical functions other than the basics needed to run the engine comes on until the screed has come up to temperature, he explains.
"The screed monitors its own temperature, and as soon as it reaches the appropriate temperature, it sends a signal to the paver and the paver automatically exits two-speed heat and then goes back to normal heat," Neisen says.
Fast heating and ease of operation are among features and benefits contractors can get with some of the newest Caterpillar screeds.
"Cat screeds offer consistent operation across our entire range of screeds," says Jon Anderson, global sales consultant for Caterpillar.
"Contractors appreciate this because their crews can jump on any Cat paver and start paving without looking for controls or trying to remember how adjustments are made. Cat screeds also offer proportional hydraulic extension control – they can adjust slowly for precise adjustments or quickly to make sudden larger changes."
"We get a lot of comments about how easy our screed control systems are to learn and use," Anderson adds. "The Cat Grade Control system is integrated with the screed, eliminating the need to deploy and remove aftermarket systems every shift."
The screeds offer even heating and rapid heat-up times, he says. "They can go from 40 degrees Fahrenheit to 265 degrees Fahrenheit in 15 minutes and in even less time if ambient temperatures are higher or the set point is lower."
This fast startup is efficient, saving up to a gallon of fuel per heat-up cycle, compared to previous models, Anderson says.