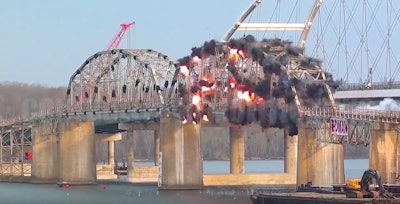 This is easily one of the best bridge videos we've seen, offering several angles of the blast from an up close and personal perspective.
The old Henry Lawrence Bridge over Lake Barkley in Trigg County, Kentucky, was demolished on the morning of April 11, WPSD Local 6 reports. The 3,104-foot bridge, which opened in 1932 and cost more than $566,000 to build, came down at 7:20 a.m. The new bridge is 10.5 feet higher to accommodate lake traffic rather than river traffic.
Check out the video below, filmed by the company that carried out the implosion, Controlled Demolition, Inc.