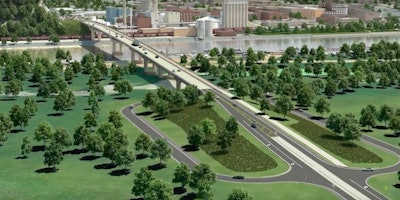 The Minnesota Department of Transportation and Wisconsin Department of Transportation have produced a video that highlights the finished look of the Red Wing Bridge.
Construction of the $63.4 million project, which includes replacing the Highway 63 bridges over the Mississippi River, Highway 61 and realigning the approach roadways, begins this month.
The video provides a "driver's seat perspective" of the bridge and the approach roadways in both states that include a "button-hook ramp" and jug handle intersection.
The prime contractor, Zenith Tech, also will upgrade pedestrian and bicyclist crossings with an expected completion date of August 2020. The agencies estimate traffic will be able to cross the new bridge in the fall of 2019.