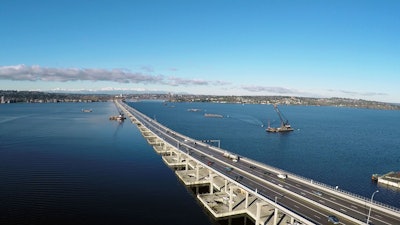 The Washington State Department of Transportation's (WSDOT) SR 520 floating bridge, first opened to traffic last year, has been awarded the 2017 Grand Conceptor Award for "the nation's best overall engineering achievement" from the American Council of Engineering Companies (ACEC).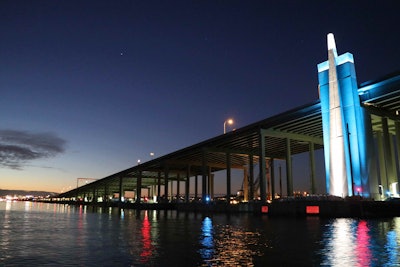 Groups working on the project included HDR, the general engineering consultant on SR 520 reconstruction program; Kiewit/General/Manson, the new floating bridge's design-builder; and KPFF, the bridge's lead design consultant.
"This is one of the great engineering feats of our time," says Washington State Secretary of Transportation Roger Millar. "The new bridge is an example of how our state is working to build a resilient, world-class, multimodal transportation system that will serve generations to come."
The ACEC considered 162 projects from all over the world for the award. The bridge, which at 7,708 feet is the longest floating span of highway in the world, opened to traffic on April 25, 2016. It is 130 feet longer than the bridge it replaced on Lake Washington that opened in 1963.
"This is an incredible honor for a remarkable project," says Julie Meredith, administrator of the SR 520 Bridge Replacement and HOV Program for WSDOT. "An amazing, collaborative group of people deserve credit for this."
A floating bridge has been used on Lake Washington due to the body of water's depth and soft lakebed. The new bridge, WSDOT says, is supported by a great number of pontoons that are "bigger and stronger" than what was used on the old bridge. Engineers designed the new bridge to withstand stronger waves and windstorms, to include bus/carpool lanes and a bicycle-pedestrian path and to be capable of being retrofitted for light rail if so desired by officials later.