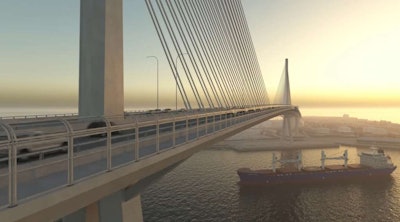 The last week of March marked the beginning of work on the $809.2 million Harbor Bridge replacement project, which is part of U.S. Highway 181 that will connect downtown Corpus Christi, Texas, with North Beach, My San Antonio reports. The Texas Department of Transportation (TxDOT) planned to replace the bridge because it was unsafe and had high maintenance costs.
The report cites the U.S. 181 Harbor Bridge Project website which says, "The existing bridge has safety issues associated with the lack of shoulders, steep grade, a reverse curve, and an accident rate that is higher than the statewide average."
Rickey Dailey, Texas Department of Public Transportation spokesman, and Joseph Briones, deputy project manager, told the news agency that the replacement bridge will be built alongside the current Harbor Bridge, which will not be demolished until the new structure is complete, so that anyone wanting to visit the beach, the U.S.S. Lexington, or the Texas State Aquarium won't be impacted by the construction.
The new bridge will will be built with concrete and will feature white cables in a triangular form. A bicycle and pedestrian path will also be part of the new bridge.
The video below shows a rendering of the new bridge.