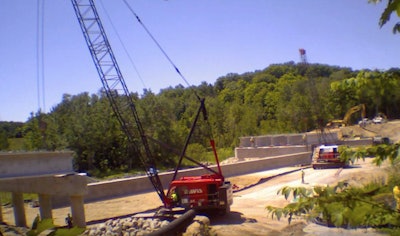 The time-lapse video below, by Team Elmer's TV, shows the six-month-long construction of the Cass Road Bridge in Traverse County, Michigan. The new, two-lane bridge reopened to traffic after a ribbon cutting ceremony September 21. Grand Traverse County Road Commission Manager Jim Cook told the Traverse City Record-Eagle that traffic would be able to cross the new bridge within an hour of the ceremony.
Construction on the 262-foot-long bridge began in March with a $3.2 million budget. Cook told the news agency that the bid was under $2.9 million, but even though additional costs arose for a groundwater issue and from removing an old fish ladder, the project remained underbudget.
The new bridge spans dry land until the dam diverting the Boardman River is removed, as well as the old, one-lane bridge.