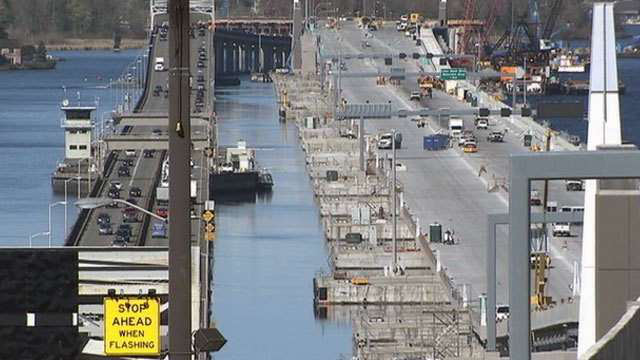 After more than a decade of planning and five years of construction, the world's longest floating bridge is set to open in Seattle, Kiro 7 News reports.
The State Route 520 bridge spans Lake Washington, connecting Seattle with cities on the east side of the lake. The new bridge will be nearly twice as wide as the old one, will include a shoulder, and is built to better withstand high winds. The westbound lanes of the new bridge will open to traffic on April 11; eastbound lanes will open on April 25.
Grand Opening festivities are set for this weekend, April 2-3. According to the news agency, the festivities will include a 10k run, remarks from Gov. Jay Inslee, and a presentation from the Guinness World Records certifying the bridge as the world's longest floating highway. Pedestrians will be allowed to cross the new bridge and a free shuttle will carry visitors to and from the bridge from four locations around Lake Washington.
Those who are unable to make it to the Grand Opening can take a virtual video tour of the new bridge, courtesy of the Washington State Department of Transportation.