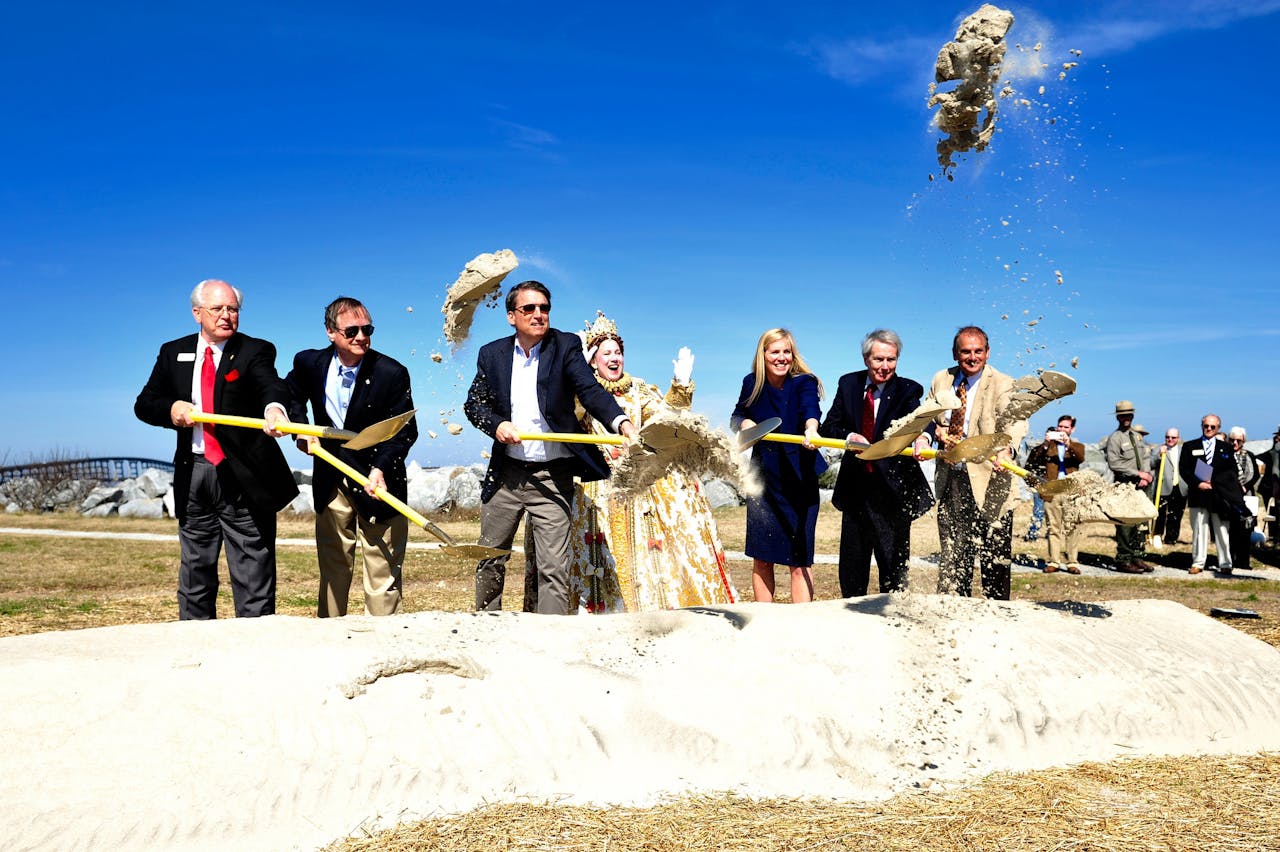 It took a while, but North Carolina officials finally broke ground on the new Herbert C. Bonner Bridge this week.
For five years, litigation between the North Carolina Department of Transportation and environmentalists kept construction on the bridge from getting under way, according to NCDOT. But after a deal was brokered last year, officials broke ground on the new bridge to replace the 52-year-old original Oregon Inlet crossing on March 8.
"This is a historic moment to be able to finally put our shovels in the ground and say that construction of a new, 21st Century Bonner Bridge is underway," Governor Pat McCrory said. "I want to thank my incredible team for helping make this day possible. I am proud to say to the people of the Outer Banks that your lifeline, a new Bonner Bridge, is on its way and it will be engineered and built to last for generations to come."
The 2.8-mile bridge will connect mainland North Carolina with Hatteras Island and will run parallel to the original bridge that currently carries tens of thousands of vehicles each day. McCrory said that the bridge is a "lifeline for Hatteras Island."
The new Bonner Bridge is set to be 3,500-feet long with seven navigational spans that are about 300 feet wide, which makes the bridge 270 feet wider than the original Bonner Bridge. The new bridge is designed to have a 100-year lifespan and is expected to open for traffic November 2018. The project is slated to be completed by September 2019.
"Thanks to the leadership of Governor McCrory, the people of Hatteras Island will have a safe, modern bridge that they can rely on for access to jobs, health care, education and recreation," North Carolina Transportation Sec. Nick Tennyson said. "The new Bonner Bridge will be built with the best materials available to protect it against the harsh salt air and water and will be the first in the state built using stainless reinforcing steel, which will provide additional protection and reduce maintenance costs."