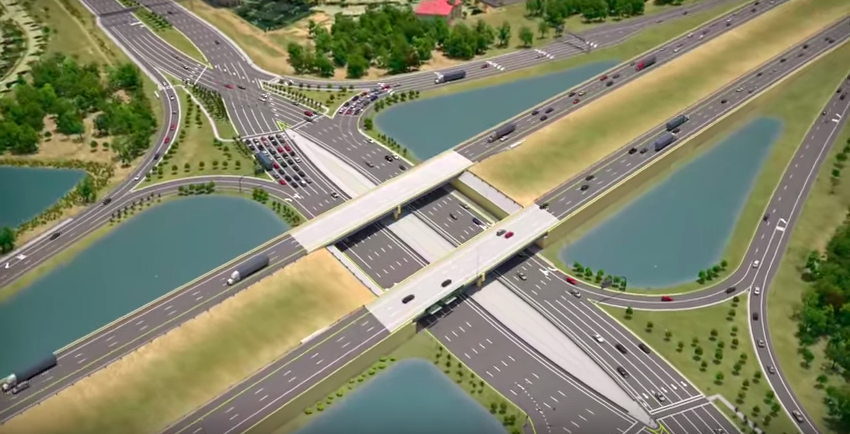 Gov. Rick Scott has kicked off work on Florida's first diverging diamond interchange (DDI) project for an Interstate 75 interchange near St. Petersburg.
DDIs eliminate left turns that have to clear opposing traffic, a design that is useful in high-traffic areas. They can cut down on congestion, improve safety, and move traffic along faster than traditional interchanges. The Missouri Department of Transportation installed the first DDI in the country in Springfield in 2009.
"We are excited to announce the kick-off of Florida's first ever diverging diamond for drivers in Sarasota and Manatee counties," Scott said in a statement. "Its construction on I-75 will help to ease traffic flow and keep Florida families and visitors safe, while also creating over 400 jobs for the community."
The Florida Department of Transportation (FDOT) says I-75 will be expanded to eight lanes with three through lanes and an auxiliary lane traveling in both directions in an area from University Parkway Interchange South to Fruitville Road interchange. Also part of the project: Rebuilding the I-75 bridge over University Parkway; widening I-75 bridges at Foley Creek and Errie Creek and Widening of roughly one mile of University Parkway from Cattleman Road to Market Street.
"Thanks to the leadership of Governor Scott, the people of Sarasota and Manatee counties will be safer and their commutes will be faster when this project is complete," FDOT Secretary Jim Boxold said. "This governor understands that investments in transportation infrastructure can save lives, stimulate the economy and improve the quality of life for Florida families."
"This interchange provides much needed improvements to our local region's evacuation routes, transportation corridors and will fortify our diligent efforts to keep ahead of the exponential growth occurring in both Manatee and Sarasota," said state representative Greg Steube.