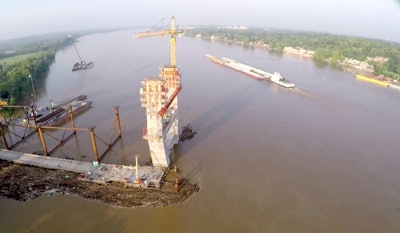 The billion-dollar Ohio River Bridges Project is still more than a year from completion, but the team behind it sent up a drone to capture footage and give an update on the progress.
The Ohio River Bridges project, which is under construction by the WVB East End Partners, will connect the east end of Louisville, Kentucky, to southern Indiana. The $1.27 billion project includes multiple bridges and a tunnel on the Kentucky side.
Each of the new videos released focuses on a different aspect of the project. One details the Kentucky side and another for the Indiana side. The other two videos show the progress of the tunnel and the East End Bridge construction.
The public won't get a first hand look at the final product until the end of next year, so the videos can give viewers an idea of what to expect.
Kentucky Approach

Indiana Approach

Tunnel Construction

East End Bridge Construction