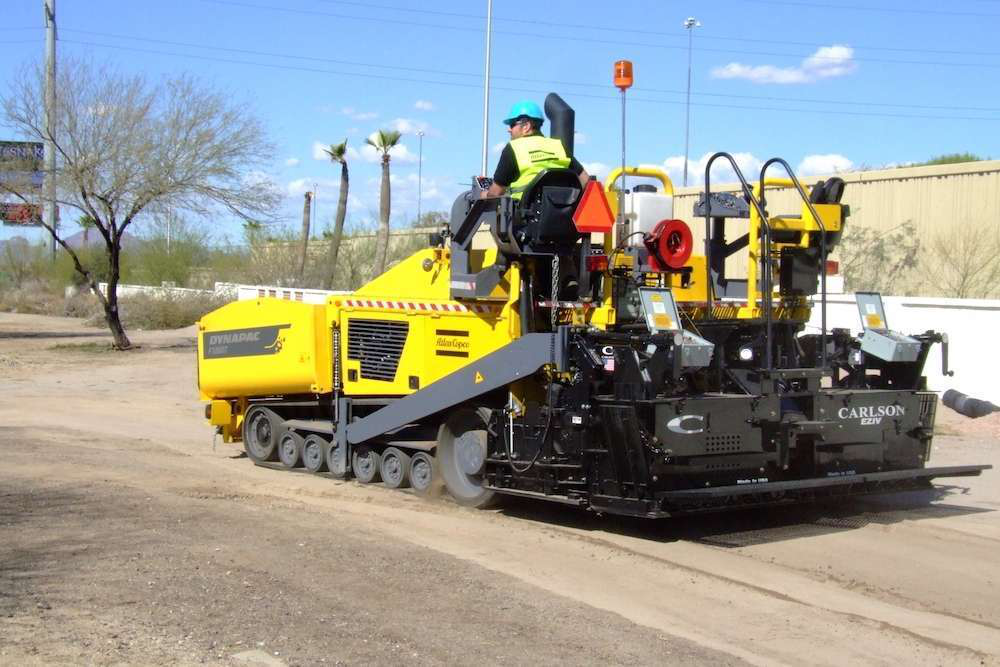 The Atlas Copco Dynapac F1000T paver now features a Tier 4 Final Cummins diesel engine, a key development in the machine is now able to operate in extreme conditions, including heat, with an efficient cooling system.
While a prototype was on display at ConExpo 2014, a production-ready machine was on display at the company's dealer event last week in Phoenix.
The machine's cross-flow cooling system pulls heat away from the engine and other components. The "on-demand" cooling fan activates only when needed, which cuts on noise levels and fuel use. The F1000T has an "oversized" hydraulic system that puts "minimal stress" on the motors and drives to help avoid downtime in harsh environments, the company says.
As with other Dynapac machines, Atlas Copco is focusing on operator comfort and efficiency with the F1000T. The operating stations on the sides have been ergonomically designed for comfort, and swing out to increase visibility in both the front and rear. Also aiding visibility is the low site line of the deck at 5 ¼ feet tall.
Other features include:
18-inch-wide rubber track bands to help the paver maneuver up steep inclines fully loaded
Auger-conveyor feed-control system that uses four ultrasonic sensors to measure material and adjust conveyors and outboard augers to meet material flow needs. The outboard driver auger system prevents segregation and produces a constant head of material.
Rear- or front-mounted Carlson screed. A 26-feet-wide working width can be achieved with the Carlson EZ R-1020 screed.