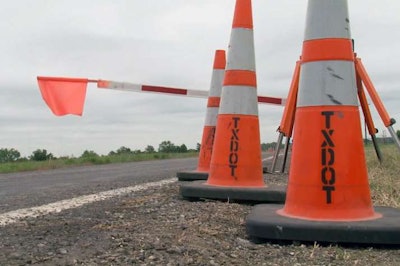 The Texas Department of Transportation (TxDOT) has launched its latest road safety features, which include the use of Automated Flagger Assistance Devices (AFADs), temporary rumble strips and flashing-yellow, left-turn arrows.
AFADs increase worker safety by allowing TxDOT crews to route traffic using various visual cues via remote control. The device involves the use of seven-foot-tall Stop/Slow signs, red and yellow lights, movable arms and reflective materials.
Black rumble strips, placed five feet apart and leading to road work zones, are designed to help alert drivers to upcoming road construction. The rumble strips are intended for motorists to drive over and will not damage vehicles.
Flashing yellow turn signals are used outside of work zones and will eventually replace traditional green circular signals at traffic lights where motorists yield to turn left. They differ from green arrow signals, which mean left-turning traffic has right of way.
TxDOT introduced the safety tools last month, when the agency announced it would implement the tools on Interstate 35 in Central Texas. The DOT is now planning to expand use throughout the state.
Watch the safety features in use in the video below.
[youtube x-R4kvWUgD8 nolink]