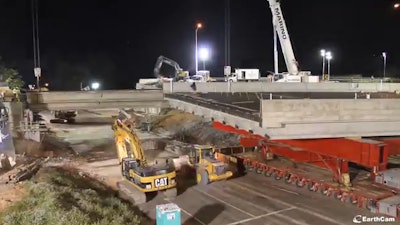 Connecticut Governor Dannel P. Malloy's office released the below video which features a bridge replacement project on Interstate 84 in Southington.
The project costed $6 million using a process known as accelerated bridge construction (ABC). During the process the new bridge is built on-site next to the old one, then swapped into place once complete.
Thanks to ABC, the highway was only shut down for one weekend during the replacement process.
"This project not only demonstrates the unprecedented investments we are making to improve and modernize our transportation infrastructure but also the steps we are taking to ensure these kinds of projects are completed ahead of schedule and with as little interruption as possible to area residents and travelers," Malloy said in a statement. "By employing ABC principles, CTDOT took a creative approach to virtually eliminate what would have been many months or even years of traffic disruptions and congestion on I-84 and the local roads surrounding the project."