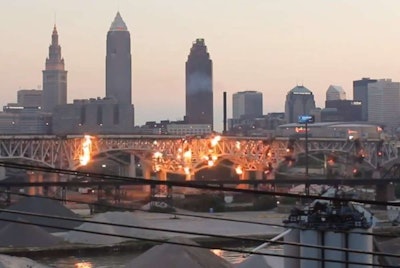 When the Innerbelt Bridge opened to traffic in Cleveland in 1959, it was the widest bridge in Ohio and carried Innerstate 90. Today it's gone.
Though demolition work began on the bridge back in January, according to WKYC TV, crews working for the Ohio Department of Transportation got most of the job done Saturday morning with an explosion that rocked the city and took down the bridge in only three seconds from the flash of explosives until the span crumbled down into the Cuyahoga River Valley.
The Innerbelt was a Pratt Deck Truss bridge standing 128 feet tall, 116 feet wide and just under one mile long. It is being replaced by two new spans, one to carry drivers into the city and another to carry them out. The first of the new bridges is open now and the second is planned to open in late 2016.
This post was written by Wayne Grayson, the online managing editor of EquipmentWorld.com.