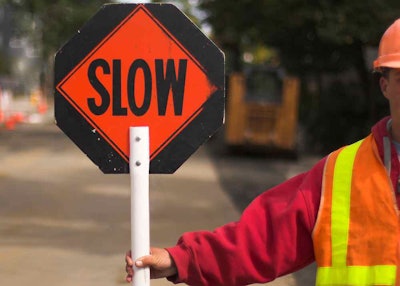 [Correction: This article previously reported that the Ohio DOT produced the safety video mentioned below. It has been edited to reflect the correct agency, Oregon DOT.]
The Illinois Department of Transportation (IDOT) and the Oregon Department of Transportation (ODOT) have each implemented new strategies to improve safety in highway construction zones.
IDOT cracking down on work zone speeding by adding speed-indicator signs to every work zone with speed restrictions, the Belleville News-Democrat reports.
The signs, which alert drivers to the speed they are driving, proved successful during a pilot program in 2013, Priscilla Tobias, a state safety engineer with IDOT, tells the News-Democrat.
According to the report, the indicator boards help reduce speed by about 20 mph. They cost $1000 per six-month project and are required in areas where lanes are restricted due to construction.
Illinois fines drivers for speeding in work zones, the report notes. First-time offenders pay a minimum of $375, and the second offence costs $1000. If a worker is present, a 90-day driver's licence suspension is added.
According to the report, more than 20 workers will killed in highway construction zones in Illinois last year.
[youtube W2PeRyEr8MU nolink]
ODOT is taking a different approach to work zone safety: teaching workers to pay attention to traffic have a plan. The agency announced on Tuesday that its Photo/Video Services Unit has produced a safety training video about a near miss incident.
In the video, workers who were on the scene talk about an incident that occurred in August 2013 when a big rig lost its brakes and sped through a work zone at about 70 mph. The workers in the video also talk about what they learned about safety planning and escape routes.
"The only thing separating you from traffic doing 65 mph is a three-foot cone," says Shawn Stephens, a transportation maintenance manager with ODOT. "That's a lot to take seriously."
He offers some tips on preparing for the unexpected.
"Have your tailgate meetings. Have your safety meetings," Stephens says. "Go over your project before you do it. Run it through on paper — run it through as a group so everybody knows where they need to be, where they want to be. It not only helps with the efficiency of the operation, but it also makes everyone safer."
Watch the included video, "It Can Be A Dangerous Job," for more details about the incident and what ODOT learned.