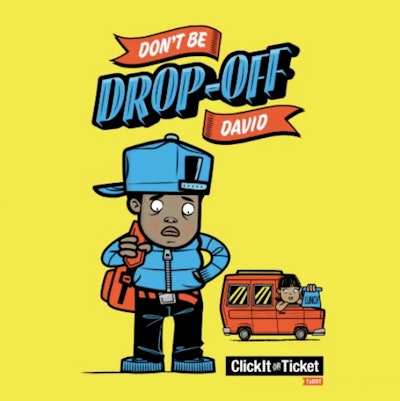 When I was a teen driver, I always remembered to buckle my seatbelt. That's not because I was necessarily the best kid in the world. I just knew that I would experience the full wrath of my mother (who had eyes all over our small town) if I was caught disobeying traffic laws.
But not every teen has a mom like mine, and sometimes a parent's wrath isn't enough to scare a kid into wearing a seatbelt for every car trip.
That's where a new seatbelt-focused campaign comes in.
The Texas Department of Transportation (TxDOT) is launching its annual "Click It or Ticket" campaign, which is aimed at drivers ages 15-20.
This year, the campaign will use Vine videos and a wrecked truck exhibit to show teens that not wearing a seat belt can result in costly tickets, lost driving privileges, injuries or death. Vine is a social network in which users can upload and watch looping 6.5-second videos.
The Vine videos use animated characters — including "Drop-off David" whose mom drives him everywhere, "Strapped for Cash Nash" who spent his money on a ticket for not wearing a seatbelt, and "Sideline Sofia" who sits on the sidelines with an injury and can't play volleyball with her team — that exemplify the consequences of not wearing a seatbelt.
Check out the videos in this post to see the Vine characters.
TxDOT is offering the characters in free, educational toolkits for classrooms. The toolkits include campaign posters, banners, parking lot signage, morning announcements, a school newspaper article, a parent brochure and more.
Additionally, TxDOT will visit teens at five events, where the agency will display a truck that was wrecked in a crash and allow teens to listen to the story about the people involved. TxDOT notes that the two teens involved were wearing their seatbelts and walked away with minor injuries.
TxDOT will bring the event to the following campuses:
Feb. 21-22: Swimming and Diving State Meet – UT Campus
March 1: Girls Basketball State Tournament – Frank Erwin Center
March 8: Boys Basketball State Tournament – Frank Erwin Center
April 18-19: Soccer State Championship – Birkelbach Field, Georgetown ISD
April 26: Interscholastic League Press Conference (ILPC) – UT Campus
While most agencies deliver campaigns similar to TxDOT's annual "Click It or Ticket," it's still a good idea to talk to your teens about the importance of wearing a seatbelt, along with other safety points. And teens, don't be shy; talk to your friends about it too.
By wearing a seatbelt every time I sat in a car as a teen, I formed a habit of buckling up for every car ride. That's something that I still do today, and I imagine other teens and young adults would form the same habit as well if they start now.