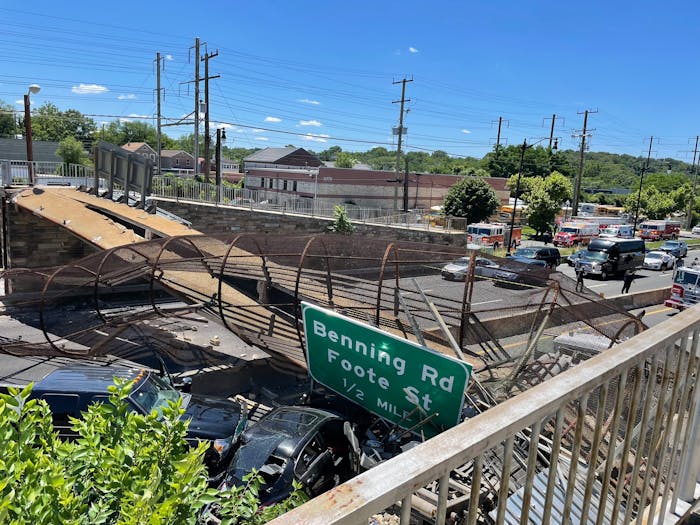 DC Fire and EMS
A pedestrian bridge in Washington, D.C., that was rated in poor condition came crashing down on a busy highway June 23 after being hit by the raised bed of a roll-off truck, according to media reports.
The collapse sent five people to the hospital with non-life-threatening injuries and closed all lanes of DC-295 in Northeast Washington for about 12 hours. The crash occurred at 11:52 p.m. at the bridge on Kenilworth Avenue near Polk Street.
The truck had left a nearby concrete plant, and the police report indicated that the driver forgot to lower the truck's bed, which then struck the bridge, WTOP News reports. 
D.C. firefighters at the scene of the pedestrian bridge collapse in Northeast Washington.DC Fire and EMSThe bridge was rated in poor condition, with a 4 out of 9 rating, in a May 25 inspection report, according to Deputy Mayor for Public Safety Chris Geldart. A 4 is defined as "advanced corrosion, deterioration, cracking or chipping; also significant erosion of concrete bridge conditions," according to the Federal Highway Administration.
Geldart pointed to the crash as the culprit, saying it separated the bridge from its moorings. He said a 4 rating does not mean the bridge is about to collapse and that before the incident it was slated to be added to the city's capital program next year.
At a news conference, Geldart had said there appeared to be no structural concerns with the bridge and that it was rated in fair condition. He later corrected that misstatement after the May 25 report was discovered of an inspection conducted in February.
The bridge crashed down on the truck, which was traveling south, and it became stuck. Multiple vehicles were also affected.
"We were very lucky," Geldart said at the news conference, noting that no one was killed or seriously injured.
DC Fire and EMS called it the "Miracle on DC 295" in a Tweet:
"Not only were there no serious injuries or deaths in the pedestrian bridge collapse, but the mass of debris was removed & highway reopened in little over 12 hours. An array of city agencies including #DCsBravest made this happen."
Mayor Muriel Bowser praised first responders for their quick arrival and operations on the scene.
The truck leaked diesel fuel, which Fire and EMS contained.
Following the crash, the District Department of Transportation mobilized contractors to the site. The Metropolitan Police Department is conducting a crash investigation to determine the cause.
The bridge has a vertical clearance of 14 feet, which the truck would have been able to clear had the bed not been raised, Geldart said. The truck is owned by Frank's Scrap Metal and Salvage in Maryland.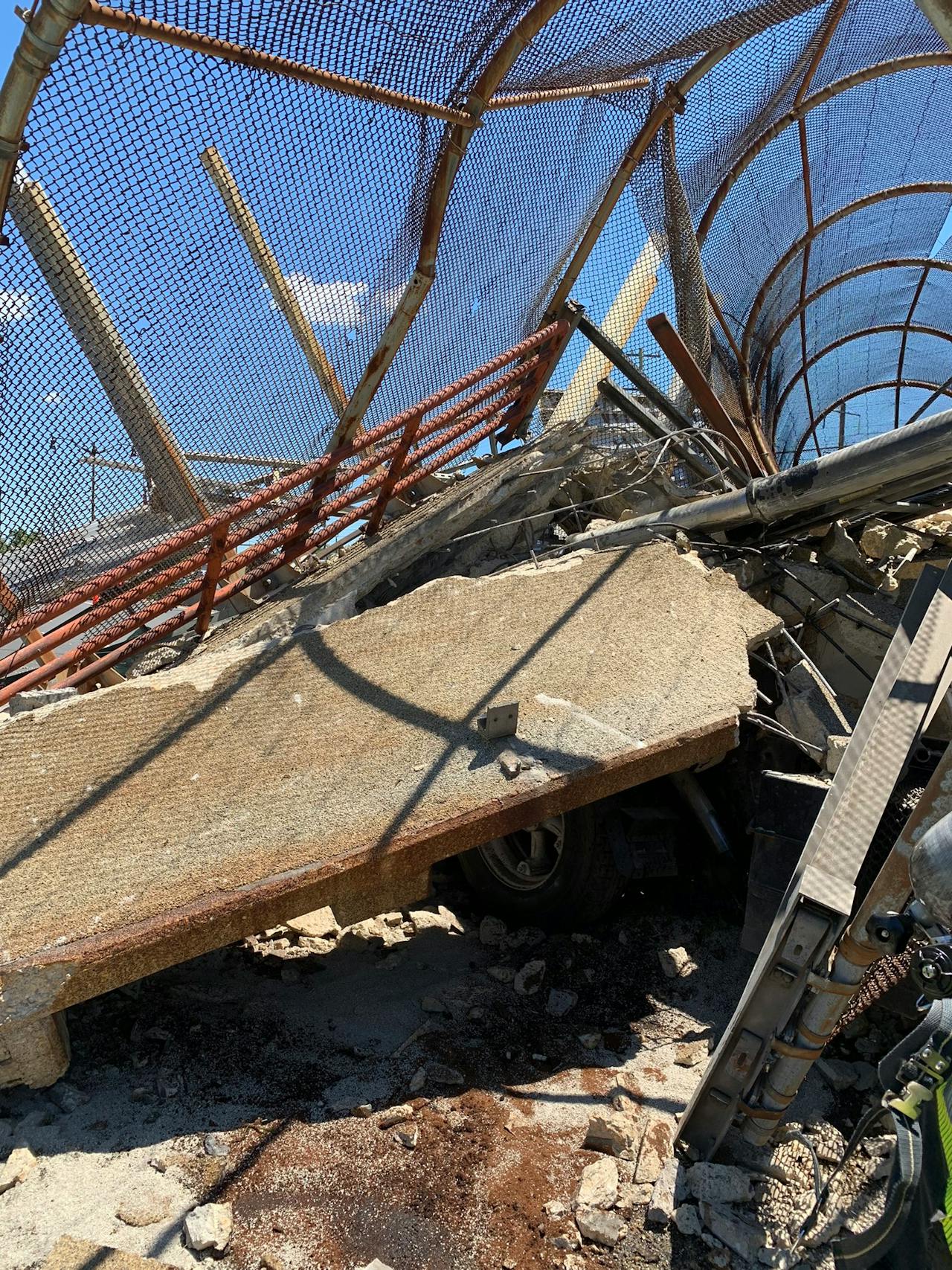 The crumpled remains of the Kenilworth Avenue pedestrian bridge after being hit by a truck.DC Fire and EMS