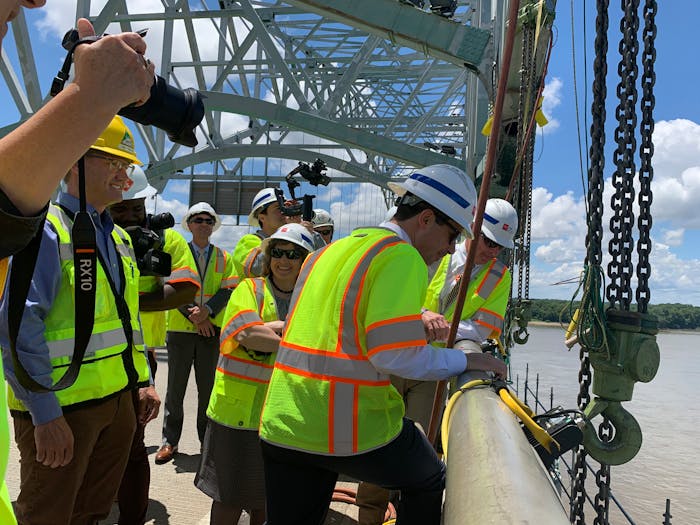 Tennessee DOT
The Tennessee Department of Transportation has released an animated video of the plan to repair the Hernando de Soto Bridge that has been closed since May 11 after a fractured beam was discovered during a routine inspection.
Inspectors immediately called 911 to close the Mississippi River bridge on I-40 between Memphis, Tennessee, and West Memphis, Arkansas.
Repairs are in the second stage to replace steel plates and lateral beams. Work is expected to extend through July. A completion date has not been set.
Check out TDOT's animation below:
Meanwhile, the Arkansas Department of Transportation has been reinspecting bridges that were reviewed by an inspector fired after the crack's discovery. ARDOT says the inspector missed the fracture in previous reports in 2019 and 2020.
The reinspections include nine fracture critical bridges – as is the I-40 bridge. This ARDOT chart lists those bridges, which the agency hopes to have reinspected by the end of June:
Arkansas DOTTennessee and Arksansas share responsibility for the de Soto Bridge, with ARDOT in charge of inspections and TDOT in charge of maintenance and repairs. The agencies split the costs.
The fracture is just off the midpoint of the 900-foot-long mid-span on the unique steel-tied arch de Soto Bridge. The entire structure is 3.3 miles long, with 164 spans, 160 piers and 10 abutments, according to TDOT. The channel spans consist of five steel-box girder spans and two steel-tied arch truss spans.
The crack was discovered within the elements of a steel box beam beneath the bridge deck. The arch truss is connected to box beams. The crack affects all of the box beam's outboard plate, all of its top plate and 20% of its bottom plate, according to TDOT.
This cracked steel beam was found May 11 on the Hernando de Soto Bridge in Memphis by inspectors who called 911 to immediately close the bridge.Tennessee DOTOn May 17, TDOT hired Kiewit Infrastructure Group as the contractor for the repairs. Phase 1 of the two-phase project to stabilize the bridge has been completed and work is underway on Phase 2 to reopen the bridge.
Meanwhile, the 50,000 or so drivers who travel the bridge each day have been rerouted to the I-55 bridge over the Mississippi River. The Arkansas Trucking Association says this lengthier detour and added traffic is costing the trucking industry $2.4 million a day and will lead to further delays in shipments of goods and materials.