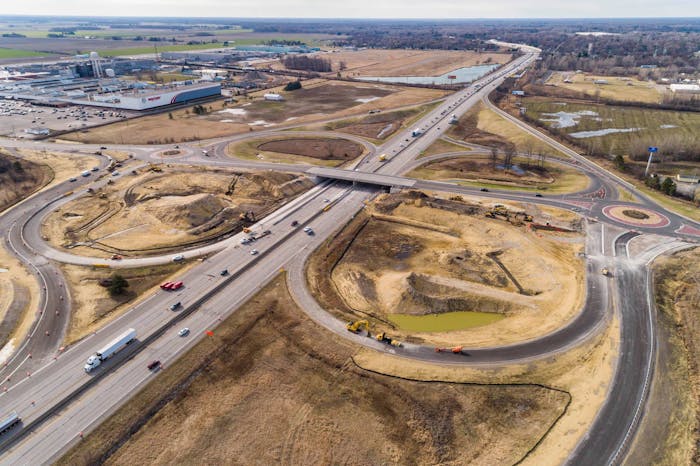 Michigan Department of Transportation
Road construction season is cranking up in Michigan with 21 state highway projects on tap, some of which are part of a four-year, $3.5 billion Rebuilding Michigan bond program authorized last year.
Under the program, the Michigan Department of Transportation sold $800 million worth of bonds in September, generating proceeds in excess of $1 billion, according to the office of Gov. Gretchen Whitmer, who initiated the Rebuilding Michigan program.
MDOT says it plans to rebuild and resurface 920 lane miles of state highways and freeways this year and perform preventive maintenance on 830 lane miles throughout the state. The bond funding will be in addition to state and federal funds the agency already has budgeted for 2021.
The overall rebuilding program will support 45,147 jobs, including new ones that are created by increased competitiveness as the result of the program and ones that are retained that would have been lost without the program, the agency says.
The program also frees up funding the MDOT already had on budget for other projects throughout the state.
Here's a look at what's coming up in March in the state, paid for by a mix of federal, state and Rebuilding Michigan bonds:
Continuation of a $121.5 million rebuild of I-94 Business Loop (Main Street), connection of US-31 to I-94, and rebuild of I-94 between Britain Avenue and I-196 in Benton Township, Berrien County. 
Rebuilding 3.4 miles of M-3 (Gratiot Avenue) in Roseville at a cost of $60 million over two years.
Improving six bridges at the US-31/M-104 interchange in Ottawa County at a cost of $24 million.
Rebuilding 12 miles of southbound I-196 from Holland to Saugatuck/Douglas in Allegan County at a cost of $34 million. 
Improving 16 bridges along the I-75/US-23 corridor in Genesee County at a cost of $12.3 million.  
Rebuilding six miles of M-37 south of US-31 to M-113 south of Traverse City at a cost of $9 million project.  
Resuming a $12.5 million project to replace two bridges on M-26 in Ontonagon County.
"By taking action now through the Rebuilding Michigan plan, we can start fixing state roads immediately and save money in the long run by cutting down the need for more costly repairs later," Whitmer says. "The Rebuilding Michigan plan is financed without an increase at the gas pump, and it'll help jumpstart our economy by creating thousands of good-paying construction jobs."