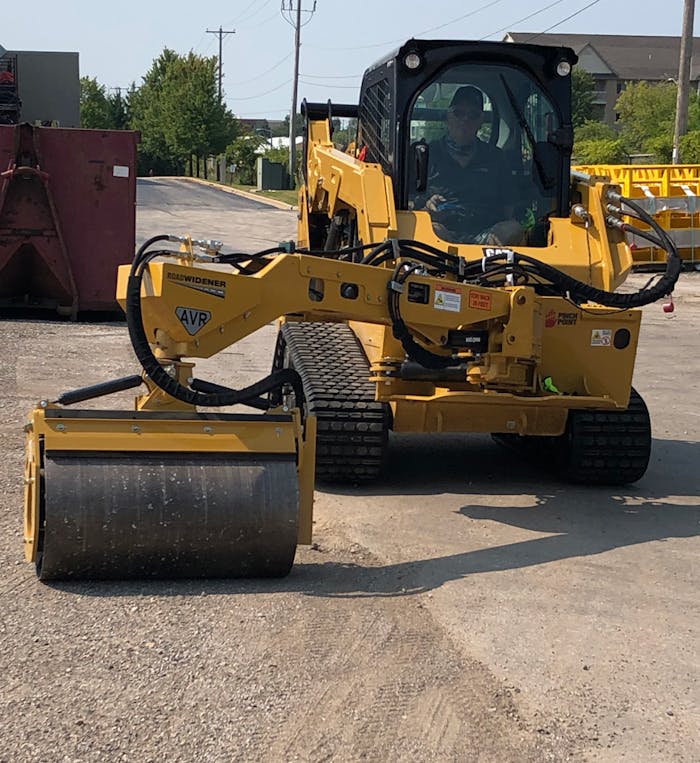 Road Widener has launched what it says is an industry first – an offset vibratory roller attachment for skid steers, compact track loaders, wheel loaders and motor graders.
The attachment is designed for compacting ditches, road shoulders and other hard to reach spots. It can be extended out by 9 feet and can drop down 30 inches below its mounting point to get inside trenches, while the host machine stays on level ground. That helps prevent the host machine from tipping over.
"The Offset Vibratory Roller offers a viable alternative, allowing contractors to quickly and efficiently get the job done without risking an accident," says Road Widener President Lynn Marsh. "It's a game changer."
The attachment can compact hot or cold mix asphalt, recycled asphalt pavement, crushed stone, gravel, limestone and topsoil. It connects to the host machine's standard or high-flow hydraulics. The operator can adjust the attachment's height, angle, extension and compaction speed by remote control.
Operators can choose from three available drum widths: 2, 3 or 4 feet. The interchangeable drums can pivot up to 30 degrees. The drums compact at 2,500 to 3,500 vibrations per minute, the company says.
To connect to the host machine, the machine's lift arm pads are inserted into the roller's universal mounting pad. The company says it also offers an adapter plate for compact backhoes and telescopic loaders that are not set up to handle standard attachments.
Because it runs solely off of the host machine's hydraulics and does not have its own engine, it requires 90% less maintenance than self-propelled rollers, the company says. It has five grease fittings that need to be lubricated every 10 hours or so, depending on the conditions.
Check out this video of the Offset Vibratory Roller in action: