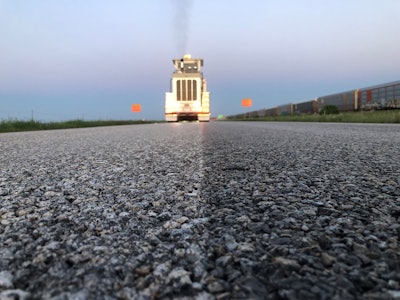 Skidabrader
The site of more than 40 commercial vehicle crashes since the start of the pandemic, the "big curve" on Maryland's Capital Beltway has been bombarded with high-velocity steel shot to try to keep truckers from skidding and losing control on the dangerous spot.
Skidabrader Group was chosen by the Maryland Department of Transportation State Highway Administration to apply surface abrasion, also known as pavement texturing, to 30 lane miles of the Outer Loop of the Capital Beltway (I-495). The project modifies the pavement's surface texture, increases friction and improves drainage, according to Skidabrader. The goal is to increase pavement friction and reduce hydroplaning so vehicle tires stay on the road.
"Case studies and comparable projects have demonstrated a 50-70% increase in friction and drainage, effectively reducing hydroplaning and promoting the ability to safely brake and maneuver," Skidabrader says.
The problem at the big curve, where the Beltway merges with I-270, is that since the pandemic, truckers have been taking advantage of less traffic to speed through the area, according to news reports. The area requires truckers to reduce speed to 50 mph, but flashing signs and increased enforcement haven't caused them to slow down.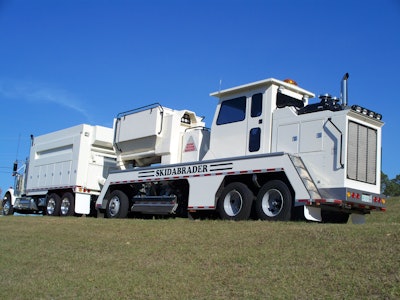 Skidabrader uses special 1,000-horsepower shot-blast machines that are mounted to tandem-axle vacuum trucks. The process is driven by wireless communication, laser-guided alignment and closed-circuit TV systems to ensure straight longitudinal passes, the company says.
The steel pellets, shot at 4,000 pounds per minute, create a surface texture that provides greater resistance to skidding and hydroplaning during wet weather, allowing tires to better grip the pavement and allowing water an exit route from the tires, the company says. The metal shot is then collected by the truck-mounted vacuum and a truck with electromagnets mounted to it, to be recycled.
The Beltway project began in February at a cost of $460,000, marking the first time it has been used Maryland, according to MDOT SHA.
"This project will improve the roadway surface as one strategy to reduce crashes on the Capital Beltway," said MDOT SHA Administrator Tim Smith. "This engineering solution will make the roadway safer, especially when coupled with motorists being cautious and obeying posted speed limits."
MDOT SHA officials also expect the treatment to extend the life of the road.