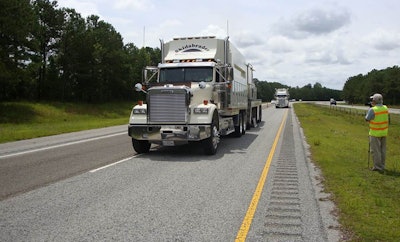 A different kind of concrete pavement treatment is shot blasting, also called shot abrading.
"Surface texture and friction are the main factors affecting the safety of pavements," says Yetkin Yildirim, P.E., director of the Texas Pavement Preservation Center at the University of Texas-Austin. "The friction force that develops between the tire and pavement surface is an essential part of the vehicle-pavement interaction; it gives the vehicle the ability to stop safely. The greater the frictional resistance, the quicker the vehicle can be slowed or stopped."
The need for improvement of pavement friction performance in existing roads has led to the development of different treatments like shot abrading, grooving, grinding and overlays, Yildirim says. "Shot abrading, such as the Skidabrader system, is not only a good way to improve road texture and draining capability, it can also be used to smooth the pavement texture, increasing ride quality."
The Skidabrader machinery fires 4,000 pound/min. of steel shot at the road surface in order to retexture it. The Skidabrader truck vacuums and recycles the steel shot so that no shot remains on the road or runway after the shot abrading process is complete. In certain projects, the Skidabrader truck is followed by a vehicle mounted with an electromagnet in order to collect any and all stray shot that was not recycled by the truck.
Read more in the July issue of Better Roads.