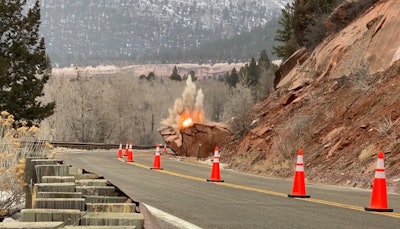 Photo credit: Colorado Department of Transportation
For Colorado Department of Transportation workers, cleaning up a road sometimes involves blowing something up.
That's especially true when the roadblocking debris is a 200-ton boulder.
This CDOT video shows how the agency cleared Highway 145 in southwestern Colorado between Dolores and Rico after a boulder tumbled down onto the southbound lane:
The blasting February 5 turned much of the boulder to rubble that was cleared away. More explosives were needed to complete the job February 8, CDOT reports.
An even bigger bang
This is not the first time a boulder has landed on Highway 145 and led to explosives.
A 2.8-million-pound behemoth crashed 1,000 feet down a cliff during a rockfall May 24, 2019, blocking the two-lane road between Cortez and Telluride. The CDOT blasted that massive rock.
Check out the CDOT video below of the explosion:
Though that boulder was demolished, CDOT left alone an even bigger, 8.8-million-pound rock that was part of the same slide and heavily damaged the road. It rolled past the road onto private land.
Gov. Jared Polis declared it a "geographic masterpiece." Besides, removing it would have cost an extra $200,000.
He dubbed it Memorial Rock, because it fell during Memorial Day weekend. The rebuilt highway section, though wider now, maintains its original alignment, enabling motorists to drive right by the big boulder. State officials, however, ask that, as a matter of safety, you not stop to gawk.