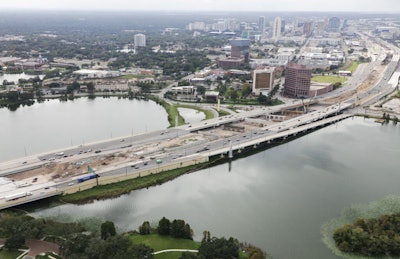 Photo credit: Florida Department of Transportation
Problems keep piling up for Florida's $2.3 billion I-4 Ultimate project, a 21-mile interstate reconstruction that goes through downtown Orlando.
On January 22, one of the members of the project's design-build joint venture filed a federal lawsuit against another member, seeking at least $132 million.
Lane Construction claims that Skanska USA Civil Southeast has caused it "enormous financial losses" by failing to exercise a right to exit its contract with the Florida Department of Transportation when faced with a 245-day delay and cost overruns in 2018.
Lane alleges that Skanska has a conflict of interest in keeping the joint venture, known as Skanska-Granite-Lane, or SGL, intact. Skanska stands to profit from maintaining and operating the project for 40 years after it is completed, the suit says. Lane had asked Skanska in 2018 to exercise SGL's right to exit the project, but Skanska refused, according to the lawsuit.
"By acting against the best interests of SGL, Skanska SE was grossly negligent in the exercise of its managerial duties and breached its fiduciary obligations to Lane and Granite," the suit says. "As a consequence, Lane is suffering, and will continue to suffer substantial losses on the ongoing Project that could have been, and should have been, avoided."
Skanska Communications Director Maritza E. Farreira says the company's policy is to not comment on pending litigation. She did say that Skanska "refutes the allegations contained in the subject complaint."
"With respect to the ongoing project," she added, "Skanska remains fully committed to successfully completing the I-4 Ultimate project as currently planned."
Cost overruns, delays, fatalities
Work on the I-4 Ultimate began in 2015 after I-4 Mobility Partners won the $2.3 billion contract. The partnership consists of Skanska Infrastructure Development and John Laing Investments, with each owning half. The partnership then contracted with SGL for the project's design and construction. Within SGL, Skanska has a 40 percent stake, and Lane and Granite each have a 30 percent stake, according to the lawsuit.
A year after construction began, a worker died when hit by a dump truck. Four more workers died in ensuing years, the most recent one in 2019 when a beam fell off a piece of equipment and struck a worker. More than 200 have been injured on the project.
In 2018, I-4 Mobility Partners sought a 245-day extension and an additional $100 million. The delay and added cost were due to drilled shaft failures, according to the suit. At the time, Moody's downgraded I-4 Mobility's outlook for its Baa1 bond rating from stable to negative.
Lane: Settlement falls short
FDOT approved a $125 million settlement with I-4 Mobility Partners last year and extended the project's completion date until the end of 2021. Moody's has since changed its outlook from negative to stable, citing the settlement.
The Orlando Sentinel reports that 60 claims have been filed for additional money and time extensions on the project. Most recently, one for $378 million was filed in January by I-4 Mobility Partners, which the FDOT has rejected, the Sentinel reports.
The $125 million FDOT settlement was not nearly enough to cover the losses SGL is facing on the project, according to the lawsuit.
Lane again wrote Skanska to request it exit the contract and head off further losses to the SGL joint venture, which the lawsuit says was $441 million as of April 2020.
Lane says it continues to suffer losses, including continuing to make capital payments to the joint venture.
"These working capital calls are having a deleterious effect on Lane's financial position and causing substantial harm to Lane's business," the suit says. "Lane can no longer afford to finance the Project so that Skanska SE's sister affiliate and parent can realize their profits."
Along with an amount exceeding $132 million, Lane also seeks judgement that it is no longer required to make the capital payments and that it be awarded costs and attorneys' fees and any other compensation deemed appropriate.
As for the I-4 project, construction continues and was accelerated during the spring pandemic lockdown. The project includes adding tolled express lanes down the middle of the interstate, restructuring 15 major interchanges and replacing 140 bridges.