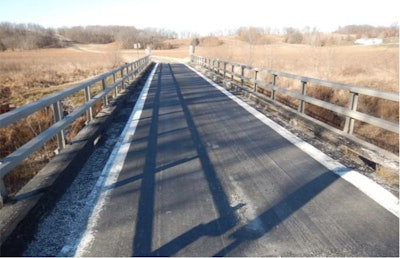 The Missouri Department of Transportation plans to replace 41 bridges in poor condition in one bundled design-build contract.
The $35.6 million project will address bridges that on average are 77 years old and rapidly deteriorating. The MoDOT says the project, called the Fixing Access to Rural Missouri Bridge Program, would eliminate all bridges north of the Missouri River that meet the following criteria: poor condition, weight-restricted, supported by timber pile and are one lane but carry two-lane traffic.
"These bridges are an impediment to the efficient movement of agricultural equipment, agricultural commodities, forest products, other manufacturing goods, and impact emergency response times," the MoDOT says. "They also affect school bus routing and economic development in northern Missouri."
The agency reports the state has 922 bridges in poor condition.
The MoDOT will hold a virtual information presentation from 1 to 4 p.m. Nov. 16 on the project, with a request for qualifications expected to be released that same day. For more information, click here.