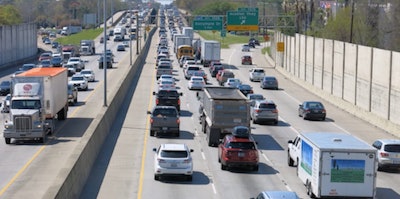 The construction management team has been chosen for the widening of Interstate 10 in Baton Rouge. The Louisiana Department of Transportation and Development is touting the project as not only one to relieve traffic congestion but to help the state's economy recover from the coronavirus pandemic.
"The execution of this project will not only provide immense traffic benefits but will also assist in rebuilding the economy following the worldwide COVID-19 pandemic," said DOTD Secretary Shawn D. Wilson. "Hundreds of long-term jobs will be created because of this, which will stimulate Louisiana's economy to what it has been in prior months."
Huval & Associates Inc. has been selected as the construction management consultant for the project. Huval will be in charge of the design phase of the portion of the project from LA 41 in West Baton Rouge Parish to the I-10/12 split in East Baton Rouge Parish.
The construction of this phase is estimated to cost $396 million, the DOTD says. Most of the funding for this phase, $360 million, will come from Grant Anticipation Revenue Vehicle Bonds. The bonds are the result of an agreement in 2018 between the state and the Federal Highway Administration to speed up major projects that had been stalled for years because of lack of funding. The DOTD launched a study of improving the I-10 corridor in 2015.
The agency reports that the phase Huval will design is in the final stages of environmental assessment. Other members of the project team are as follows: G.E.C. Inc., Arcadis U.S. Inc., Sigma Consulting Group Inc., Modjeski and Masters Inc., Ardaman & Associates Inc., APS Design & Testing L.L.C., GOTECH Inc., Franklin Associates L.L.C., Reich Landscape Architecture LLC, and ELOS Environmental L.L.C.