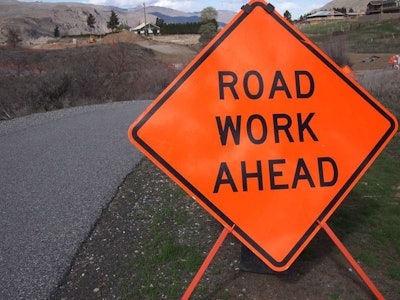 Three workers performing guardrail work along Interstate 40 in North Carolina died after a truck driver crashed into their work zone.
The crash occurred at 3:30 a.m. February 27 in Iredell County near Statesville when state troopers say the driver of a 2019 Freightliner box truck crashed into an attenuator truck that had a flashing arrow to direct traffic away form a closed lane.
The three workers were standing behind the crash truck, struck and killed.
The N.C. State Highway Patrol identified the deceased workers as Noah Logan Hamilton, 22, who is survived by his wife who is pregnant; Austin Melton, 21; and Dustin Gelinas, 20. They were from Georgia and working for DBI Services.
The driver of the truck, Logan Lee Casey, 27, of Cary, N.C., was charged with three counts of misdemeanor death by vehicle.
For more on the dangers of road work zones and how to make them safer, see Equipment World's in-depth report "Behind the Thin Orange Line."