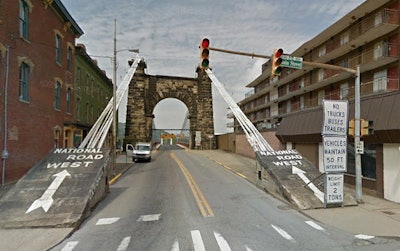 The Wheeling Suspension Bridge in West Virginia reopened to traffic on August 13. The bridge was closed for nearly two months after a charter bus weighing more than the bridge's 2-ton limit crossed it, KDKA reports.
The bus driver was cited for failing to obey traffic control signs.
The West Virginia Division of Highways issued a statement saying that 7-foot, 6-inch vertical barriers were installed at the entrances, and that drivers must maintain a 50-foot minimum distance between vehicles.