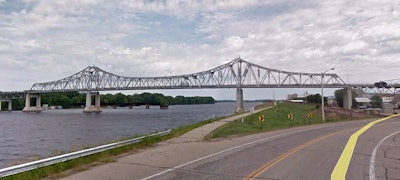 After a three-year, $145.9 million rehabilitation project, the historic Highway 43 bridge over the Mississippi River in Winona, Minnesota, reopened to traffic on Monday, July 1, WXOW reports. The historic bridge, which was built in 1942 to connect Minnesota and Wisconsin, was temporarily closed 11 years ago after an inspection brought safety concerns.
"This is an iconic bridge that we're on," said Minnesota Gov. Tim Walz during the opening ceremonies, according to the news agency. "It symbolizes the things that we did. It connects our two great states. It's an architectural wonder. I think for many of us, it's just plain beautiful."
A new bridge, which was built beside the historic bridge, was completed in 2016. It has carried traffic across the river for the past three years while the historic bridge was being restored. Restoration efforts included replacing nearly 35,000 rivets with high strength bolts and strengthening the trusses with steel plates. Now that both bridges are open to traffic, drivers enter Winona on the new bridge and exit on the historic bridge.
"What happened in 2008 will never happen again," said Winona Mayor Mark Peterson, according to the news outlet. "We have two bridges, and the redundancy is there. If anything happened, we have two."
"I'm really happy they saved it [the historic bridge]," Connie Dretske, 25-year resident and member of the Heritage Preservation Commission, told the news agency. "I want to see what they've done with it."