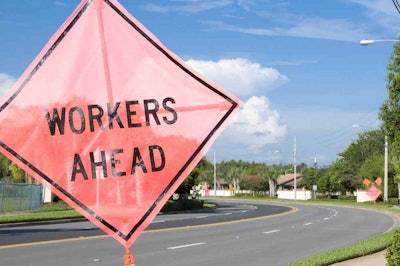 On April 9 the Maryland Department of Transportation State Highway Administration (MDOT SHA) and the Maryland Transportation Authority (MDTA) kicked off the state's Work Zone Safety Awareness Month at the $189 million Interstate 895 bridge replacement project.
"At MDOT, we focus on work zone safety every day, and we're asking drivers to do the same," said MDOT Secretary Pete K. Rahnin a press release. "Simply slow down and pay attention."
Gov. Larry Hogan expanded the April 8-12 national Work Zone Safety Week to include the entire month of April as Work Zone Safety Awareness Month. He designated April 10 as Go Orange/Roadway Worker Appreciation Day, encouraging everyone to wear orange to promote work zone safety.
Local landmarks will also be lit in orange as a tribute to highway workers. MDOT hopes this will make everyone more aware of construction zones to help prevent work zone accidents during the busy spring and summer construction season.
"In work zones, you'll see the orange cones, barrels, and signs imploring drivers to focus," said MDOT SHA Administrator Greg Slater in the press release. "Please support the mothers, fathers, sisters, brothers, sons, and daughters out there improving our roadway system. Drive like you work there, because our team members do."
State officials report that 46 lives have been lost in Maryland work zone crashes during the past five years (2014-2018), and there are an average of 700 fatalities each year in work zone-related crashes nationwide. Drivers and passengers account for four out of five work zone deaths.
The work zone safety campaign includes social media posts, radio public service announcements, and education materials. MDOT SHA will share "Go Orange" efforts on its social media platforms, with the hashtag #GoOrangeMD.