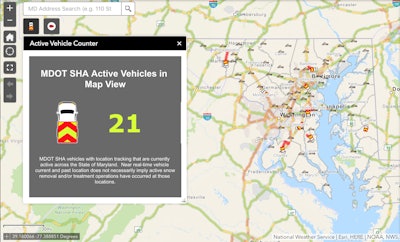 The Maryland Department of Transportation State Highway Administration (MDOT SHA) held its annual "Snow Show" event on November 20, where it unveiled its newest tool for safe winter travel for citizens — STORM (Statewide Transportation Operations Response Map), a mobile-friendly web application link.
The app enables citizens to track MDOT SHA and contractors in real time as the pre-treating brine trucks work in advance of a storm and plow trucks work during a storm. Citizens simply enter their address to see where trucks are operating in their area. Equipment is only visible when moving at 10 mph or greater.
"The STORM App is an innovative way to enhance the customer experience," said MDOT SHA Administrator Gregory Slater in a press release. "An average snow route takes a plow driver approximately 90 minutes to complete. The new app will show where they are and where they have most recently traveled."
MDOT SHA says it is fully stocked with material and equipment is ready to keep roads and bridges safe and passable this winter.