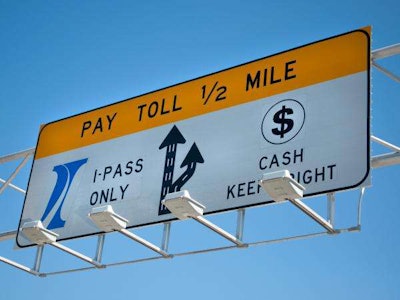 The Illinois Tollway is starting construction on the $33.4 million Illinois Route 23 Interchange Project on the Jane Addams Memorial Tollway (Interstate 90) in Marengo.
The project will create a new, full-access interchange with local road improvements, including construction of roundabouts, the plans say.
The Illinois Route 23 Interchange will be the first interstate connection in McHenry County.
The tollway says it is building four ramps as part of a partial cloverleaf interchange on the east side of Illinois Route 23 that will provide full access between Illinois Route 23 and I-90. The interchange is scheduled to be complete this fall.
"The new full tollway access at I-90 and Route 23 will bring significant development opportunities to the city of Marengo, and we are prepared and ready to assist any party interested in developing or locating at this new exchange," says Marengo Mayor John Koziol.
"I'd like to thank the tollway, IDOT and McHenry County for their continued support of this project."
Beginning Monday, March 25, traffic on I-90 in both directions is scheduled to shift to the inside lanes to provide a work zone for ramp pavement construction, according to a press release.
The interchange is being designed with roundabouts or traffic circles to provide efficient and safe traffic flow for the new interchange ramp connections with Illinois Route 23. Traffic projections estimate the new interchange will serve a total of about 4,800 vehicles daily.
As part of the project, a portion of Illinois Route 23 will be widened and reconstructed between Coon Creek Road and Harmony Road. The Illinois Route 23 Bridge carrying traffic over I-90 was rebuilt in 2017 in anticipation of the new interchange.
In addition, the project will also provide for local road improvements including improving a portion of Harmony Road and rebuilding the intersection of Illinois Route 23 and Harmony Road to include a roundabout with a pedestrian crossing with 10-foot wide sidewalks to ensure safe pedestrian crossings.
The Illinois Route 23 Interchange Project is funded in part by Illinois Tollway's 15-year, $14 billion capital program, Move Illinois: The Illinois Tollway Driving the Future.
Consistent with the tollway's Interchange and Roadway Cost-Sharing Policy requiring local communities to cover the remaining cost of interchange improvements, the local share will be split: IDOT will contribute approximately 25 percent and the remainder will be funded by Marengo and McHenry County, the press release says.