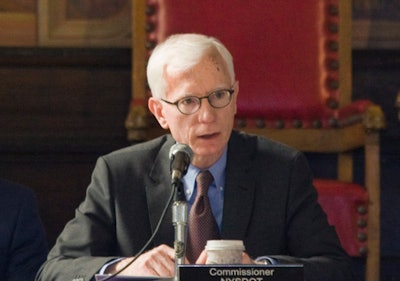 New York state's acting transportation commissioner, Paul Karas, is resigning this week, saying he wants to spend more time with his wife in Illinois.
Governor Andrew Cuomo had, in November 2017, appointed Karas, 67, to head the New York State Department of Transportation (NYSDT).
In his resignation letter, Karas thanked Cuomo "for the opportunity to be part of his administration and to serve the people of the great state of New York."
Before his appointment, Karas was a vice president and manager of RS&H, Inc., a transportation and buildings infrastructure consulting firm. Before that, he served as president and founder of Karas Associates Co., an infrastructure development consultancy, according to the governor's office.
The Times Union reports that, in a letter to the governor's office earlier this month, Karas said he wants to return to Illinois to be with his wife, who has "spent most of her time in Illinois pursuing her career and other interests. It is very important to us to live in the same location, and our decision is that we will do so in the midwest."
The newspaper also notes that NYSDOT has been under scrutiny in recent months following an early October crash in Schoharie. Twenty people died 20 after an oversized Ford Excursion limousine careered through an intersection and crashed into an embankment, marking the nation's deadliest transportation incident in nearly a decade.
"The condition of the limousine's brake system has been a focus of ongoing investigations by the State Police and the National Transportation Safety Board, the newspaper reports. "DOT investigators had inspected the limousine multiple times in the months prior to the crash and ordered it to be taken out of service."
At the time, the limousine and the driver were operating illegally and the vehicle was later ordered out of service for at least the second time.
State officials familiar with the resignation of Karas said his decision to resign 15 months after taking the job is not related to the limousine crash investigations, according to the Times Union.