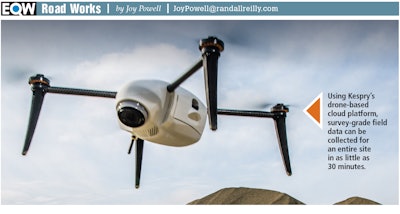 At E Construction – one of western Canada's largest paving contractors – drones have become an integral tool for saving time and money, as well as for reporting progress on projects.
The company is among a growing number of contractors and transportation departments turning to this fast-developing technology. Across North America, drones are proving their value and gaining momentum in materials management on roadbuilding projects, as well as for their usefulness in bridge inspections.
"We have a lot of gravel pit operations, and the use of drones in our business is invaluable," says Dave Manchakowski, vice president of finance for E Construction, a division of Colas Canada.
"They're developing the software every year, and now we're getting a good database of information." He adds that the company's use of Kespry drones has paid off, which can be seen when it takes its year-end inventories and compares them from year to year.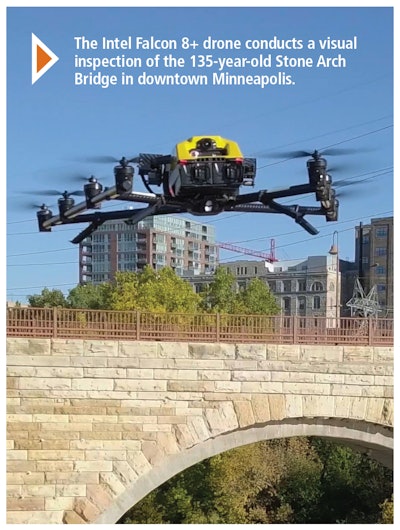 Drones are also improving worker and public safety as they keep lane closures to a minimum and reduce the time that inspectors are high off the ground, transportation departments say. (Technically, drones are called UAVs for unmanned aerial vehicles or UASs for unmanned aerial systems.)
The construction industry – including contractors, transportation agencies and drone makers – is in the first step of a long learning journey, says Anil Nanduri, vice president and general manager of the UAV segment at Intel.
Over the past five years, capability and technology in these devices have rapidly advanced, and the industry is testing their value and exploring how best to use drones in specific applications, Nanduri says.
In addition, costs for drones and related services are dropping significantly as more automation and safety features come on board, he and other experts say.
Commercial drones can cost anywhere from $1,000 to $50,000, depending on their capabilities and features, Nanduri says. The level of complexity of flying those systems and the amount of training required also varies, he adds.
Contractors starting out with the technology need to weigh whether it is worth owning drones and training employees or going with a service provider, Nanduri says.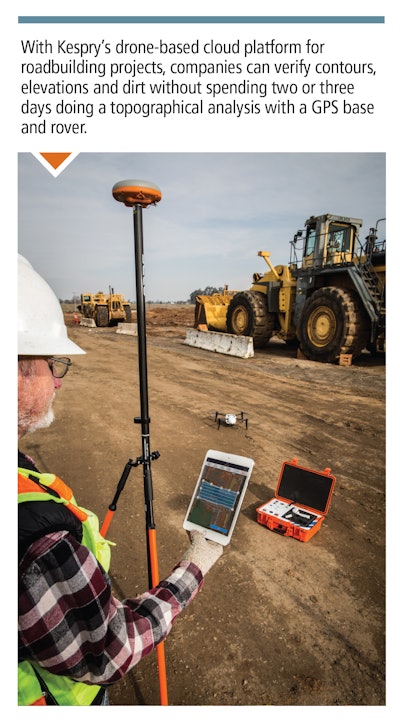 You need to ask what problem you're trying to solve and how much value the drone will give you, he adds. You must determine who's going to fly it and how you plan to extract and analyze the data. And you need to assess how you will use the drone data in your operations.
Uploading to the cloud
Drones allow for more accurate public reporting on complex contracts, save time and money, and increase inventory management efficiency, Kespry and E Construction say.
E Construction estimates that using drones saves the company $50,000 to $60,000 a year because the surveying process has been reduced from nearly two weeks to 30 minutes, according to Chad Harrison, aggregates and environment manager. He works with drones for E Construction, which has more than 650 employees providing products and services throughout Saskatchewan, Alberta and the Northwest Territories.
E Construction uploads its drone data to the Kespry cloud and no longer deals with the hassles of aggregates inventory management. This in turn allows for trustworthy, accurate and actionable data and analytics, says Harrison, who coordinates inventory measurements along with other duties.
"We use Kespry to confirm quantities after crushing for all of our operations," Harrison says. "We also use it to do checks when we've done hauls without scales. For example, when we haul reclaimed asphalt pavement into a stockpile site, we will use Kespry to confirm the quantities on that material."
Drones for savings and safety in bridge inspections
Since 2015, the Minnesota Department of Transportation has researched drones and is now incorporating their use into bridge inspections.
MnDOT found the drones reduced safety risks along with inconvenience to bridge inspectors and the traveling public. And newer drones, with vertical and horizontal camera and sensor capabilities, can give inspectors safe access to more remote under-deck areas and confined spaces.
"We have mainly used drones for bridge inspections but have expanded the use to inspect and obtain imaging data for historic-bridge views, state monuments, bridge hits, landslides, corridor mapping, overhead sign inventory and flooding events," says Jennifer Wells, a MnDOT engineer who runs the state's bridge inspection unit.
"Other entities within MnDOT see our efforts and are also looking to expand drone use to more areas such as construction, maintenance and surveying," says Wells.
MnDOT will begin implementing drones in counties and townships throughout Minnesota. The 2019 project will train inspectors statewide for structure inspections, says Wells, the project manager.
This latest project comes after multiple phases. During the summer of 2017, for example, Phase III of the research began using the SenseFly Albris and the Flyability Elios, a collision-tolerant drone more suited to confined spaces such as box girders, culverts or areas difficult to access, according to Wells and Barritt Lovelace, a consultant with Collins Engineers.

Due to the success of this research, MnDOT Metro District purchased the Elios drone to supplement bridge inspection access where space is confined and optimal lane closures are prohibited. That's been an ongoing issue in the eight-county Metro District due to heavy traffic, including in the Minneapolis-St. Paul area.
The project will implement drone inspection to the Metro District Bridge inventory by creating an inspection plan to identify situations best suited for drone use. It will look at what parameters govern drone use in bridge inspection and how UAS can be integrated into standard inspection operations. This project also includes a UAS user and policy manual specific to the Metro District and the Elios drone.
To do this final phase, MnDOT is using $125,000 in federal and matching state money. Wells pursued the $100,000 federal grant after learning the Alabama DOT had used one to buy a drone fleet, she says.
And at the Kentucky Transportation Cabinet (KYTC) for the past five years, drones have been assisting with bridge inspections and gathering information on infrastructure, says Erin VanZee, a transportation engineering specialist.
"Drones are used to inspect areas of bridges that would otherwise require additional equipment, like work rope access or aerial work platforms, to assess," says VanZee. "By obtaining high-quality photos and videos, inspectors can evaluate the structural conditions of the bridge without the need for additional equipment or lane closures."
"While UAS cannot be used for all bridge inspections due to regulations that require physically touching a bridge, this method is effective for visual inspections by saving time to collect the data and minimizing travel impacts, like lane closures, when conducting inspections," according to VanZee.
She points to key examples in Kentucky:
"We have some structures that are hundreds of feet off the ground, requiring the use of an under-bridge inspection crane to inspect some areas of the structure. This means shutting down lanes of traffic on bustling interstates. Using UAS technology, we're able to fly the drones to the area of concern and get our 'eyes' on it to see if closing a lane is warranted."
KYTC, along with engineer Michael Baker International and Intel drone technology, helped inspect and analyze the Daniel Carter Beard Bridge, an eight-lane interstate that crosses the Ohio River. Nearly 100,000 vehicles travel the bridge daily; lane closures can result in traffic delays.
"During this inspection, the bridge remained open and fully functional while the team carried out the assignment," says VanZee. "For this inspection, the drone captured about 2,500 high-resolution aerial images used to create a digital twin of the structure to aid with analyses and visualization."
Michael Baker International has used drones for about four years – since the Federal Aviation Administration first allowed for their commercial use under Section 333 permits, says Alicia McConnell, UAS operations and civil engineer for the firm.
"We have used them for bridge inspections, GIS survey, emergency response and disaster assessments, pavement analysis, obstruction analysis at airports, construction monitoring, demolition documentation, volumetric calculations, and for media relations – to name a few," says McConnell.
As the use of UAS becomes more prevalent, McConnell says, cost savings will grow. "The true benefit in bridge inspections currently is the reduced man-at-risk hours," she says.
This past summer, a team from Collins Engineers and MnDOT used drones inside box girders for internal inspection, says Wells, who serves on both federal and state drone committees. MnDOT also performed a deck assessment using drone thermal imaging cameras in Neilsville, Minnesota, for example.
"We can show through our research efforts that we are able to obtain quality data that can be post-processed into 3D models for future use and comparison, save time in most cases, save costs, and improve safety by having fewer or no lane closures," Wells says. "Ease or ability of access is also a huge benefit."
Drones provide a cost-effective way for agencies with limited budgets to properly access their structures and manage resources, she says.
She points out that snoopers (under-bridge inspection vehicles) are expensive and require traffic lane closures, presenting safety risks to the traveling public and inspectors alike.
MnDOT established in its Phase I study that instead of using snoopers, unmanned aircraft systems significantly augment inspection findings with infrared and imaging data while reducing such safety risks.
"With better access, more accurate inspection data can be obtained, which increases the accuracy of scoping bridge projects," says Wells. Using drones also means "less wear and tear is put on these $750,000 machines," she says of the state's snooper fleet.
Using drones can save money, because with fewer closures, fewer workers are needed and work can be completed faster, says Wells. Accuracy has increased with the use of ground control points. And drones are now able to have interchangeable payloads to change their functions, which include nondestructive testing abilities such as steel thickness readings, she explains.
Challenges include limited battery life and drones not being conducive to cold weather, Wells says. She notes drones' limited abilities to look upward in some cases, though new advances enable some drones to look up and operate manually without GPS.
Another challenge: FAA airspace laws and regulations trail behind the technology, she and other experts say. Still, the initiating of an FAA Part 107 has made it easier to obtain pilot certificates.
"Technology always leads regulation," says Nanduri, of Intel. The question, he says, is how quickly laws and regulations come together so that drone technology can be applied to solve problems.