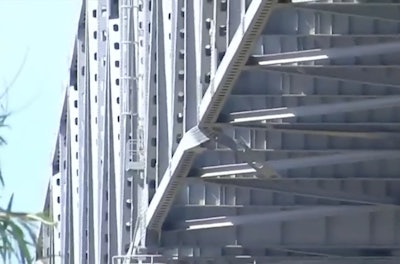 Louisiana Department of Transportation and Development (LaDOTD) officials were expecting a special jacking system to arrive this week 5, to realign the damaged Sunshine Bridge that spans the Mississippi River in St. James Parish, The Advocate reports.
The 54-year-old bridge was closed to traffic on October 12, after it was hit by a crane barge. The bridge was knocked out of alignment, and a major load-bearing beam on the southwest side of the steel cantilever truss bridge was smashed. The damaged beam runs along the bottom edge of the supporting metal cage that surrounds the bridge deck.
Workers have reportedly finished installing the primary work platform under the bridge and were expected to have others built prior to the jacking system's arrival.
"The jacking system will be used to realign the bridge into its original position and to allow installation of a replacement (beam), which is one of the main load-carrying members of the bridge," LaDOTD officials said in a statement, according to the news agency.
"With repairs to the Sunshine Bridge well underway, we're looking forward to keeping the momentum moving forward," said LaDOTD Secretary Shawn Wilson in a statement, according to the news agency. "We have plenty of work to do and all parties involved are working to expedite the repairs," he said, adding that crews were working 24 hours a day.
The bridge is expected to be jacked back into alignment between mid- and late-November. In the meantime, crews will straighten the remaining beam with heat and install the replacement beam. Repairs are expected to be completed in January 2019.