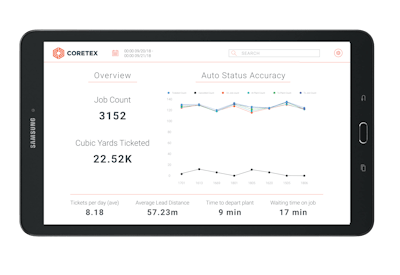 Technology firms Coretex and Marcotte Systems have joined forces to develop a product to provide a comprehensive view of your ready-mix concrete operations, coupled with automated batch mixing.
Both firms will combine their products – Coretex 360 and Marcotte Control – into one system designed to cut costs, increase productivity and give ready-mix fleet companies "efficiencies and consistent product quality that has never been seen before in the ready-mix industry," says Dean Marris, Coretex co-founder and North American sales and distribution president.
Coretex 360 provides dispatchers with a detailed view of ready-mix operations, from the concrete mixer's comings and goings and every step in between, including bowl/drum rotation, water added and precise automatic updates on the status of the operations, the company says.
Marcotte Control adjusts the required quantity of each batch constituent in real time during batch execution and automatically fine-tunes the mix, according to a news release. It preserves key ratios and volumetric yield and considers all parameters, such as local material properties, density, absorption, granularity, moisture and temperature, the release says.
"By combining Coretex's IoT (Internet of Things) platform with advanced tracking, integrated cameras, engine management and service data with Marcotte Systems' comprehensive process control and automation, dispatching software and batching systems, we have redefined the meaning of an end-to-end construction solution," says Alexandre Leblond, Marcotte global vice president of sales.
The companies say the product is being tested at ready-mix concrete sites and will be available in the first quarter of 2019.