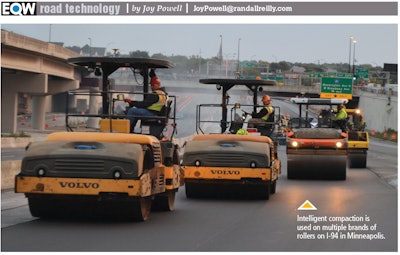 During this construction season, the Minnesota Department of Transportation began requiring intelligent compaction (IC) and paver-mounted thermal profiling (PMTP) on all highway projects that are four linear lane miles or more.
Minnesota began phasing in the technologies in 2014, and this year, it became the first and only state to fully implement IC and PMTP.
With full deployment just getting off the ground this spring, it's too soon to do a true cost-benefit analysis, says Rebecca Embacher, advanced materials and technology engineer for MnDOT.
But the technology is no doubt proving successful, she says.
"Increased uniformity in surface mat temperatures and compaction efforts should translate into improved performance and increased longevity of our roads," she says.
Embacher says this technology is one way to combat the workmanship issues that result in future pavement performance issues.
Many studies identify workmanship issues as one of the causes of pavement performance issues, according to Embacher. For instance, the Vermont Agency of Transportation reported that, on average, 80 percent of pavement stress performance issues are related to workmanship issues.
"Both IC and PMTP provide 100-percent coverage and real-time feedback in the field," she continues. "Additionally, the information collected by these systems can also be reviewed, near real-time, from other locations, such as on a computer back at the office."
IC enables more consistent and efficient compaction for soil subgrade, granular sub-base and asphalt pavements by using rollers equipped with measuring devices. There's also better night vision, as Equipment World reported in July.
Typically, IC uses an accelerometer-based measurement system (for steel drum rollers), high-precision global positioning system, thermal sensors (or cameras) and an onboard data acquisition system that displays a real-time color-coded map of roller passes, asphalt surface temperatures and intelligent compaction measurement values (ICMV).
The ICMV values are related to the stiffness of the compacted materials, which are influenced by underlying layers, material types, gradations and more.
Many IC applications now incorporate cloud computing and mapping, which enhance data management.
DOTs around the country are watching Minnesota's IC program with interest, and a handful of states – including Texas, California, Oregon and Ohio – are implementing IC on a limited basis. In California, for example, Caltrans has pilot projects under way.
"Caltrans began conducting pilot projects in 2014 to determine the feasibility of using intelligent compaction," says Mark Dinger, a Caltrans spokesman. "We chose to evaluate projects with at least 10,000 tons of hot mix asphalt and selected 'cold in place' recycling projects. Since then, we have started or completed 114 projects."
The goals of Caltrans' pilot projects also include evaluating the functionality of equipment and software, as well as investigating potential cost savings and future applications, Dinger says.
In Missouri, the state Department of Transportation (MoDOT) executed a yearlong project throughout 2017 to demonstrate the use of intelligent compaction, paver mounted thermal profiling and MnDOT's Veta software to improve pavement construction operations. (More on Veta software later.)
Because of the success of the projects, MoDOT says it has committed to fully implementing IC by 2021.
"Using IC in the field gave us a better level of confidence that the mat was being rolled properly," says Bill Stone, research administrator at MoDOT. "This way, we get a much better view of how the pavement is being placed and compacted compared to the old way of testing cores here and there."
As of early 2018, at least 33 states had committed to advancing IC technologies. The Federal Highway Administration has partnered with the Associated General Contractors of America, the American Road & Transportation Builders Association and the Asphalt Institute to advance IC technology.
Minnesota contractors embracing IC
"I think it's only going to grow," says Brent Carron, vice president of Valley Paving in Shakopee, Minnesota, located 25 miles southwest of Minneapolis.
Carron is a member of the Minnesota Asphalt Pavement Association, which works closely with MnDOT as a partner on IC.
"MnDOT is just the first step," Carron says. "There are a lot of counties that are looking at getting into intelligent compaction and thermal scanners. There are also a few cities that are looking at it where it might make sense on a job."
As a contractor, Carron helped pioneer the use of IC in Minnesota. In 2011, his company headed a project using intelligent compaction on a stretch of Interstate 35 between the cities of North Branch and Wyoming on the Twin Cities' northern fringe.
"MnDOT was looking at getting into this," Carron recounts, "and they wanted to test it out, so they put out a supplemental agreement for us to purchase the IC equipment for rollers and to build a model and use it on that job."
Back then, this meant his crew faced a few extra chores, including some that seemed more nuisance than help, such as uploading data at day's end in an era before hotspots were readily available.
So Carron rallied his workers, telling them: "Either we get on the train now and we get ahead of the game, or we sit back and wait for everyone else to do it and then we're behind. We took the initiative to jump on these projects right away, to get in to learn IC, to understand it and to actually use it as a tool rather than as a requirement."
At first, even emailing the data was a challenge due to the file size limitations. Another problem: trying to connect the IC systems to local ground base stations for coordinate corrections.
"It's evolved so much. Now we just tap into the cloud and the GPS and satellites," Carron says. "It's come a long way."
Buying the equipment is expensive, he notes, adding that MnDOT takes those costs into account in the bidding process by including a line item for "quality management" and "quality management special." Contractors have an opportunity to include these costs in their bids.
But is MnDOT recouping its money by paying for this bid item?
"It's about $35,000 for a roller," Carron says, "and if you've got eight rollers, that adds up pretty quickly."
Beyond the $35,000 per unit, the data subscriptions, much like those on a cellphone, cost around $1,000 to $1,500 per year per unit, according to Carron.
Then once you gather the data, you have to review it. "You have to employ personnel who can actually go in, grab that data and put it into MnDOT's Veta intelligent construction data management software. I think they spent over a million dollars putting this software together so that they can collect this data, and they can overlay this data on top of roads and they can keep track of this."
Using Veta software is a requirement in the AASHTO PP80 "Standard Practice for Continuous Thermal Profile of Asphalt Mixture Construction" and AASHTO PP81 "Standard Practice for Intelligent Compaction Technology for Embankment and Asphalt Pavement Applications IC Specifications." Increasingly, it's being adopted by state transportation departments.
Veta is a map-based tool for viewing and analyzing geospatial data. Developed by the Transtec Group, it is funded by MnDOT and other agencies through a pooled FHWA fund initiative for data management, viewing, analysis and reporting of geospatial data sets such as IC and PMTP.
It allows users to import and analyze IC and PMTP data from various manufacturers and serves as an important element in IC and PMTP standardization, as well as paver-mounted thermal profiles.
"We didn't want to move forward with full deployment right away with the intelligent compaction and thermal profiling technology because there is a learning curve for everybody both on the state side and the contractor side," says Embacher.
Instead, MnDOT has gradually increased the number of projects that require the technology.
More makers in the wings
At least 10 compaction equipment manufacturers offer intelligent compaction. Vendors include Ammann/Case, BOMAG, Caterpillar, Dynapac, Sakai, Volvo Construction Equipment and Wirtgen-Hamm. Trimble, Topcon and MOBA are among the companies that provide IC systems.
In August 2018, Germany-based machine automation company MOBA visited Carron's company for two weeks and put some of its IC testing units on Valley Paving's rollers. The objective: to see how MOBA's data collection works with the company's rollers compared to the system that Valley Paving is currently running, says Carron.
Carron expects more manufacturers to get on board. "What that means is that the MnDOT software has got to be able to talk to all of these other manufacturers, not just one or two," he says.
Wirtgen will soon release a new thermal camera technology called RoadScan in the U.S. market. It has a temperature sensor that sits on the back of the paver and keeps track of the temperature of asphalt as it's coming out of the paver. The system was introduced at the Intermat trade show in April this year.
This sensor can be hooked up to a system that records the temperature of the asphalt, and it allows roller operators to get on the asphalt at its optimum temperature.
States slowly mandating thermal cameras
Thermal cameras on asphalt pavers are now mandated in job specifications in at least 14 states, including Minnesota.
Various paver manufacturers are coming out with thermal cameras, with the cost averaging $35,000 to $45,000.
Expect to see more of this thermal imaging coming on the market, says Jim Holland, vice president of Vögele, a Wirtgen brand.
Holland says DOTs are starting to ask for thermal imaging and contractors want to make sure that their machines can use it. "We've been asked how difficult is it to add RoadScan. It's not difficult at all, really. It's a plug-and-play option right now," he says.
"The ultimate goal is that it will be a dealer-add option."
Incentives/disincentives
In Minnesota's IC program, incentives and disincentives are monetary. IC helps Valley Paving avoid disincentives, says Carron. "That right there is a bigger dollar figure than the incentive."
Carron also hopes he can use IC to recruit young people who might be attracted by the computer aspect, as well as train new employees.
"I've got to give a shout-out to Rebecca that MnDOT has taken this on. They've spent the money. They've developed Veta," says Carron.
"States are looking for MnDOT to share the Veta program," he continues. "Rebecca's done a lot to get this 100 percent implemented on top of making sure that contractors will buy into it."
Embacher has indeed been one of the leaders in the whole IC industry, agrees Tim Kowalski, application support manager for Wirtgen America. "A lot of people look to her to answer a lot of questions that people have with IC," Kowalksi says.
"With IC, what's good in Minnesota is good everywhere else," Kowalski adds.